Date : March 26, 2010
Report: March 26, 2010 【Gifu Press Tour】
post date : 2013.08.24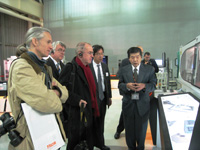 Gifu Prefecture, located at the center of the Japanese archipelago, will host an APEC (Asia Pacific Economic Cooperation) SME (Small and Medium-sized Enterprise) Ministerial Meeting in autumn this year. This press tour, which covered the local traditional culture and also cutting-edge technology development by local enterprises and a university, was attended by six journalists from Germany, France, Qatar, and the EU.
The party first visited Yamazaki Mazak Corporation, a major Japanese manufacturer of machine tools, to see the demonstration of laser processing machines. After that, they visited an underground factory called Yamazaki Mazak Optonics Corporation Phoenix Laboratory. In the immaculately clean factory, the company officials briefed on how to create a highly dust-proof environment, how to ventilate the factory, and how to keep the temperature constant without air-conditioning.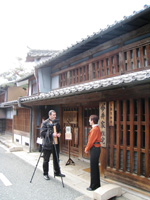 In Mino City, which is known for washi (Japanese traditional paper) and "udatsu" houses, the participants visited the old-style streets where there are still rows of houses built in the Edo and Meiji periods. In the streets, they had a taste of the local traditional culture, seeingartistic lanterns made of Mino Washi paper and also "Suikinkutsu," a type of Japanese garden ornament.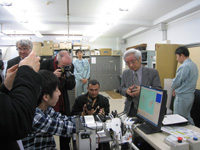 At the Gifu University's Faculty of Engineering, the party visited Kawasaki and Mouri Laboratory. Professor Haruhisa Kawasaki is the developer of an anthropomorphic robot hand, Gifu Hand, aiming to produce a dexterous hand motion just like that of a human being. In the tour, he explained his research project and showed demonstrations of a robot that can examine for breast cancer and also a hand rehabilitation support system.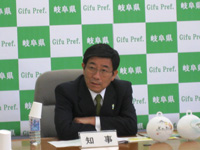 At the press conference given by Gifu Governor Hajime Furuta, he introduced the prefecture's various attractions. Among these were tourist destinations, such as Hida-Takayama, which has earned three stars from the French Michelin guidebook, and World Heritage Site Shirakawa-go, and also Hida Beef, which won the highest award twice in a row in the Beef Olympics held once every five years.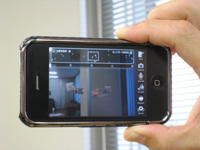 In addition, Governor Furuta presented the prefecture's strategies to revitalize local communities in a rapidly-aging society, with the prefectural population expected to decrease by 25 percent in 30 years. In particular, the governor drew the participants' attention when he talked about "Sekai Camera," an iPhone application software(picture on the right), created by Tonchidot Corporation with its R&D Center in Softpia Japan, Ogaki City, Gifu Pref., which is a part of the Gifu iPhone Project aimed at promoting regional development by using iPhones.