Date : February 6 - 7, 2009
Report:February 6-7, 2009【Ishikawa Prefecture presents: KANAZAWA Press Tour】
post date : 2013.08.24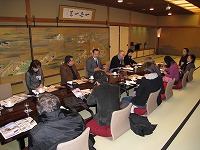 Kanazawa, the old capital of the Hokuriku region, is now capital of Ishikawa Prefecture, a place where new cultural forms thrive alongside splendid tradition.
A total of 8 correspondents from such countries as France, Spain, Italy, China, South Korea, Lebanon, and UAE, went to visit the city and talked to a representative of the "100 year-old Shinise", namely the city's local enterprises of long standing, about their management philosophy and how they are now seeking to apply their rich experience to pull through the present global recession. They also heard about "Foodopia Kanazawa", an event to introduce Ishikawa's food culture, which is co-hosted by the Association of "100 year-old Shinise".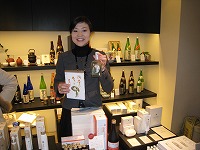 Kanazawa is also known as a crucible of the arts, both old and modern. The tour visited the 21st Century Museum of Contemporary Art, Kanazawa, which plays a central role in the cultural life of the city.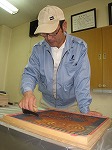 It highlighted, too, the new initiatives of local industries now applying their traditional skills in new artistic way: an old sake brewery collaborates with a digital artist; New interior designs produced in cooperation with "Kaga sacan", a traditional plasterers of Kaga, and graphic designers.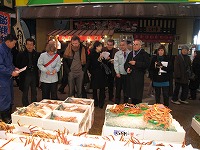 The tour also took in the Omicho Market, termed Kanazawa's old kitchen and just recently renewed, as well as Kenrokuen, one of the three most famous gardens of Japan, where they could discover the special allure of the Japanese garden in winter.