Date : October 22 - 23, 2009
Report:October 22-23, 2009【Press Tour to Yamagata – Another Japan】
post date : 2013.08.23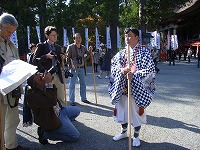 A total of 10 Tokyo-based reporters from the UK, France, Germany, Spain, China, South Korea, and Pakistan, took part in the press tour to Yamagata, the first in the 33 years' history of FPCJ.
(Photo: visiting Dewa-sanzan (Hagurosan), three mountains of Dewa, with a local guide, an active yamabushi.)
The tour featured Yamagata's manufactueres' spirits covering the local university laboratory as well as the excellent SMEs: the world-leading R&D of Organic EL lighting fixtures at Yamagata University; Sato Seni, Co., Ltd., creator of the world's thinnest mohair yarn used in the yellow cardigan, first lady Michelle Obama's inauguration outfit; Oriental Carpet Mills, Ltd., which creates high quality hand-woven carpets and supplies them to the Imperial Palace and the Vatican.
The tour also highlighted Yamagata's tradition of nature worship and visited Hagurosan, (Dewa-sanzan, three mountains of Dewa) with a local guide, an active yamabushi.(photo)
The reporters had a chance to talk with Governor Mieko Yoshimura and asked many questions about the new Hotoyama administration.