Date : November 3 - 4, 2010
Report: Yamaguchi Press Tour (November 3-4, 2010)
post date : 2013.08.23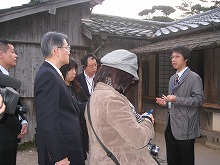 The press tour to Yamagata prefecture, known as the birthplace of many key figures of the Meiji restoration, had the participation of thirteen foreign correspondents from six countries/regions; Germany, France, China, Taiwan, Lebanon and the UAE.
 In Hagi City, the tour visited modern industrial heritages such as the Hagi reverberatory furnace where the Choshu clan tried to produce their own iron cannons at the end of the Edo period, and Shokason juku where Yoshida Shoin, one of the most distinguished intellectuals of the closing days of the Tokugawa shogunate, educated young people and produced many promoters of the restoration. (They are potential world heritage sites as component features of "The Modern Industrial Heritage Sites of Kyushu and Yamaguchi.") 
The participants walked around Hagi's castle town which preserves the scenery of Edo. Mayor Koji Nomura briefed on the activities of the Machi-ju Hakubutsukan, or "whole town" museum.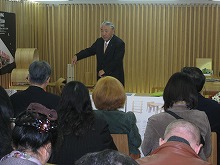 The tour covered a local company, TAKE Create Hagi, producing high-end bamboo furniture with original and stylish design, utilizing high-quality Hagi bamboo (moso-dake).
In Kudamatsu City, the tour visited Yamashita Kogyosho which has manufactured the noses of the Shinkansen's lead vehicles from the very beginning of Shinkansen services. The correspondents took a close look at "sheet metal beating technique" which has created elegant three-dimensional curved surfaces for Shinkansen by hands with hammers.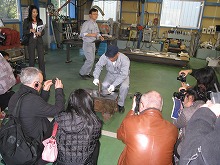 Photo 1: Visiting Shokason juku
Photo 2: Briefing at TAKE Create Hagi
Photo 3: Shooting a master craftsman using "sheet metal beating technique" at Yamashita Kogyosho