Date : November 22, 2010
Report: Yamanashi Press Tour (November 22, 2010)
post date : 2013.08.23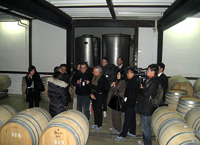 In Yamanashi Prefecture, approx. 80% of the prefectural land accounts for forest, and enjoys a plentiful supply. This press tour featured the prefectural approach to boosting its regional economy, and attempts by local small and mid-sized companies to enter the global market by using their greatest fortune, abundant natural resources. Nine correspondents from China, Korea, Italy, France and the UAEjoined the tour.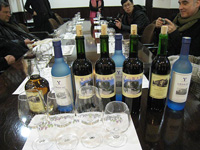 There are more than 80 wineries in Yamanashi, known as"the prefecture of lush water and greenery", and it produces approx. 40% of domestic wine. Export of Koshu wine, the first variety originating in Japan, has been under way backed by the booming popularity of Japanese cuisine in recent years.
Yamanashi Governor Shomei Yokouchi talked about the prefectural approach to promoting Koshu wine. The participants also had a chance to visit Chuo Budoshu Winery, the centerpiece winery in Yamanashi in exporting Koshu wine to the world. At theUniversity of Yamanashi's Institute of Enology and Viticulture, they covered the human resources development program for the wine industry to enhance the technical capacity of the local wine industry to the world-class level.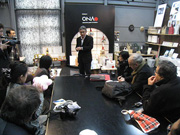 Washi is another famous local product in Yamanashi. Onao, a well-established washi manufacturer, developed "Naoron" paper, mixing the most modern technique with tradition. The journalists listened to the story of how Onao launched their new band"SIWA" using Naoron paper.