Date : August 3, 2012
Report: Press Tour "The New Era of Agriculture: Sustainable and Competitive Agriculture Developed by Youth Power" (August 3, 2012)
post date : 2013.08.23
Twelve journalists from ten media organizations of Canada, China, France, Germany, Singapore, Switzerland and Taiwan participated in the press tour "The New Era of Agriculture: Sustainable and Competitive Agriculture Developed by Youth Power." Urban agriculture plays a great role in supplying fresh, safe farm products, providing open spaces in the event of disaster and easing the heat island phenomenon. This tour covered various attempts in Kawasaki City's urban agriculture, adding value and matching the huge demand of consumers in the Metropolis.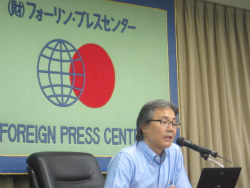 The tour started with a briefing by Prof. Tamotsu Takemoto, School of Agriculture, Meiji University, on the current situation of agriculture in Japan and the potential of urban agriculture. First, Prof. Takemoto pointed out that the individual farmer's income is increasing even though overall farm households in Japan are decreasing. Hence, the Japanese agricultural industry cannot always be seen as weakening. Especially, urban agriculture is highly profitable using limited farmland. It is estimated to have 8% of nationwide farmers' sales (467.6 billion yen) in only 4% (198 thousand ha) out of the nation's farmlands (4.6 million ha). Then, Prof. Takemoto said he has a high expectation of young farmers who are making agriculture trendy. Finally, he compared the gross domestic production of edible agricultural and fishery products (9.4 trillion yen) with final consumption by food and drinks expenses (73.6 trillion yen); explaining with the case study of Kawasaki City that farmers have the potential of further profitability by adding value to their produce.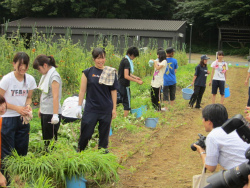 The tour participants then headed for Meiji University's Kurokawa Farm, opened this April, located in Kurokawa, Asao Ward, Kawasaki City, to see how the young generation practices farming. On this farm, agricultural students can practice a wide range of farming from organic to the most up-to-date agricultural technology used in urban areas. On the day, about 50 students were there learning to harvest tomatoes or in a cooking class to taste vegetables they raised on the farm. The director of Kurokawa Farm, Mr. Masahiko Tamaki, said, "Nowadays, the image of farming is improving so the popularity of the faculty of agriculture is increasing. On the other hand, not many graduates from agricultural universities wish to become farmers," explaining to the journalists that the reason could be the relatively low income of farming compared with other businesses.。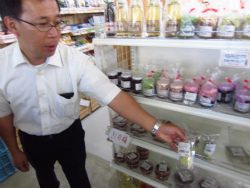 Ceresamos, also located in Kurokawa, Asao Ward, Kawasaki City, is a direct sales shop for farm products opened in 2008 and run by JA Kawasaki. The sales of this shop are steadily increasing since its opening: 370 million yen in the first fiscal year and it recorded over 600 million yen in the last fiscal year. Here, farmers can grasp consumers' response four times a day from the e-mail sales report sent from Ceresamos. According to Mr. Isao Hata, Director, Urban Agriculture Promotion Section, JA Kawasaki Ceresa, there have been drastic changes in Kawasaki City's agriculture in the five years since its opening, such as reduction of abandoned farmland and increase in newcomers to farming. Mr. Kanji Ichikawa, one of the local farmers selling vegetables here, shared his passion for sustainable urban agriculture: "I wish to achieve farming that my children want to carry on".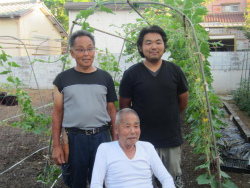 Koizumi Farm, Miyamae Ward in Kawasaki City, is not only selling produce but also processing foods such as jam or confectioneries using the herbs and vegetables they raise. At Ceresamos, their products are in the top sales. The tour visited a three-generation family doing urban agriculture on farmland located in the middle of a residential area. Mr. Hiroshi Koizumi (34) said the advantage of farmland surrounded by houses is being able to gain more trust due to its transparency. Also, if a new kind of vegetable is introduced on a TV show, the media coverage directly pushes up the sales. So, they are keeping an eye on new kinds of vegetables especially those that restaurants are showing some interest in using. His father Tomio (62) told us about protecting their farmland inherited from generation to generation from potential contamination by radioactive materials. When they use organic fertilizer, they make sure that it has undergone a radiation check and been confirmed as safe. The director of this farm, Hiroshi's grandfather Mashiro (87), showed his satisfaction in farming with the young generation and the happiness of all the family members working together.