Date : November 20, 2008
Report:November 20, 2008【Press Tour to Cover Influenza Outbreak Drill by Tokyo Metropolitan Government】
post date : 2013.08.23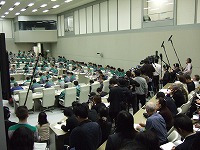 Concern is mounting over a possible outbreak of new strains of influenza, which, in a worst-case scenario, could kill as many as 640,000 in Japan. The Tokyo Metropolitan Government therefore conducted a map drill of its planned response to an influenza pandemic in Tokyo. The drill took place in the TMG office building (in the Disaster Prevention Center and other areas).
 With the cooperation of the TMG Disaster Prevention Division, FPCJ organized a press tour to cover the introductory part of the drill. A total of 8 correspondents from countries including China, South Korea, UK, France, Italy, and Germany joined the tour.
The drill took place in the morning of November 20 and involved about 300 people from all Tokyo Metropolitan Government bureaus, the Tokyo Metropolitan Police, the Tokyo Fire Department, the Ground Self-Defense Force, local municipalities, and providers of vital "lifeline" utilities (Tokyo Electric Power Company, Tokyo Gas, and NTT). It was intended to strengthen cooperation among all those involved in disaster response and to improve their ability to respond to a pandemic.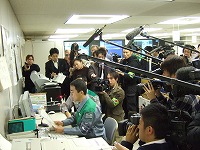 The FPCJ tour participants received a briefing on the overview of the TMG's crisis management by Mr. Rikiya Kondo, Director for Crisis Management, and moved to the venue of the drill.  
They covered a drill by the Headquarters of Countermeasures to Combat Infectious Disease assuming an outbreak in the metropolitan area, a drill of the response by each bureau assuming a 40% decrease in the TMG's workforce, and a drill of telecommunication between the TMG and municipalities.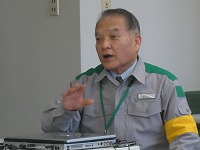 At the end of the tour, Mr. Toshiyuki Shikata, Counselor to the Governor of Tokyo in charge of Crisis Management, kindly gave an interview and shared his views on transferring the responsibilities from central to local government as well as enacting the necessary domestic legislation in the event of an emergency. Asked about Japan's preparedness for potential crisis, he pointed out that, while the Japanese are able to come up with advanced ideas, they lag behind in practical terms, including enacting necessary legislation.