Date : October 16 - 18, 2008
Report: October 16-18, 2008 【IWATE Press Tour】
post date : 2013.08.22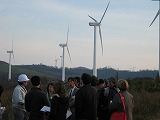 The IWATE Press Tour visited two small towns with a total population of about 8,000 -Hiraizumi-cho and Kuzumaki-machi – in Iwate prefecture which has the second largest area of all the prefectures in Japan. 
A total number of nine journalists from seven countries - Italy, South Korea, Switzerland, China, France, the United States, and New Zealand – joined this press tour, and covered the big challenges and issues of these two small towns with the theme of"co-existence with nature" which local residents have nurtured against the background of Iwate's grand natural scenery. (photo: Kamisodegawa-kogen Wind Power Station)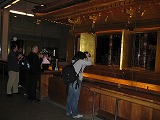 The first day of the tour featured a visit to Hiraizumi-cho, which is now aiming for the registration as a World Heritage site in 2011 after getting a decision to "postpone" the registration in July this year. Participating journalists received a briefing about Hiraizumi-cho's efforts to get the World Heritage registration, visitedChusonji and Motsuji which are the cores of Hiraizumi's cultural heritage, and covered the lacquer craft "Hidehiranuri" which has been passed down from the Heian Period to the present.
There was also a press conference by Mr. Takuya Tasso, governor of Iwate prefecture. They further validated the precious cultural heritage of Hiraizumi, and listened to people talking about where they think Hiraizumi must aim from now.(photo: photo oppotunity at the Chusonji Konjikido, the Golden Hall, specially permitted by the Temple)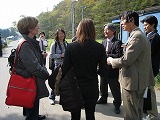 On the second and third days of the tour visited Kuzumaki-machi which is known as the top new energy base in Japan. The journalists interviewed Mr. Shigeo Suzuki, mayor of the town, visited new energy facilities including Kamisodegawa-kogen Wind Power Station and Livestock Excreta Biogas System, and covered "Mori-to-kaze-no-gakko (School of Forest and Wind)" (photo: talk with Mr. Yoshinari, President)which practices a recycling lifestyle that is friendly to the environment and"Mori no Sobaya (Soba shop in the forest)" which has contributed to the local revitalization by offering handmade soba noodles. 
They pursued this successful example of "revitalizing a town by new energy development" which local residents and the town has worked together, and speculated on its future issues.