Date : March 28, 2018
Report: Tokyo University of Science Press Tour
post date : 2018.04.12
On March 28, 2018, Japan's first female astronaut, Dr. Chiaki Mukai, guided participants on a tour around the Tokyo University of Science Space Colony Research Center, which she is Director of. The tour learned about the frontline of technological development that could be used for long-term habitation in space.
The goal of the Space Colony Research Center is to further improve technology in areas the TUS already excels at, making technology viable in space and creating a virtuous cycle of technological innovation applicable on Earth as well.
Eight correspondents participated in the tour, from media outlets in France, Indonesia, Singapore, Spain, Taiwan, and the US.
*This tour was sponsored by Tokyo University of Science, with planning cooperation by the FPCJ.
*Click here for further details on the tour.
*Click here for reports based on this tour.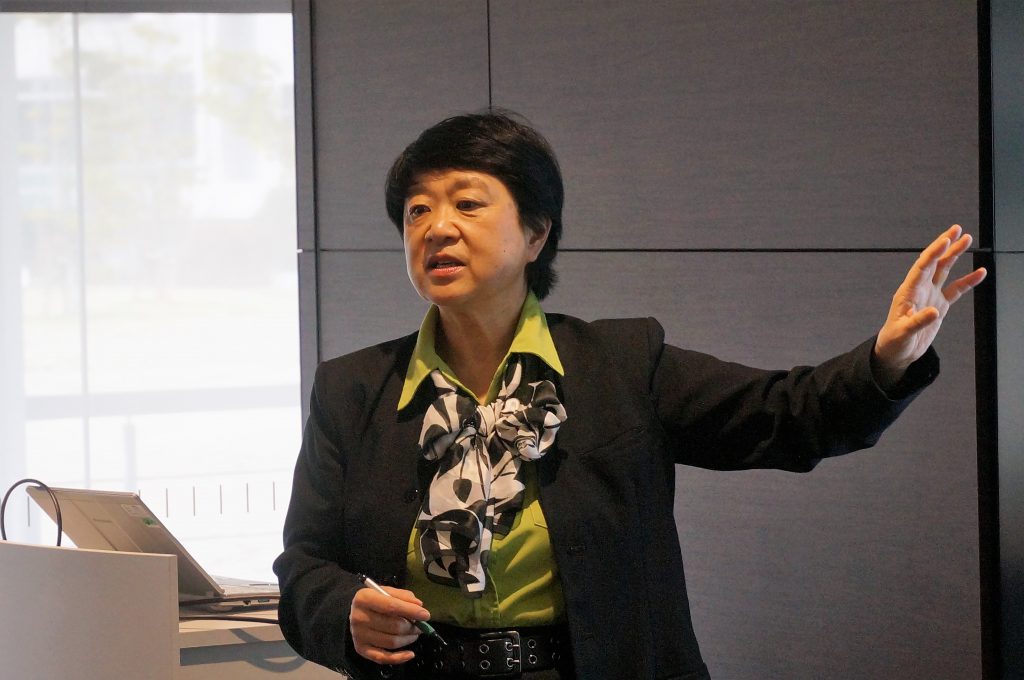 Director Chiaki Mukai explained the vision for the Space Colony Research Center, and the research being carried out there.
The journalists asked questions about the reasons for building space colonies and when they could be expected to be built, as well as asking about Dr. Mukai's experiences in space.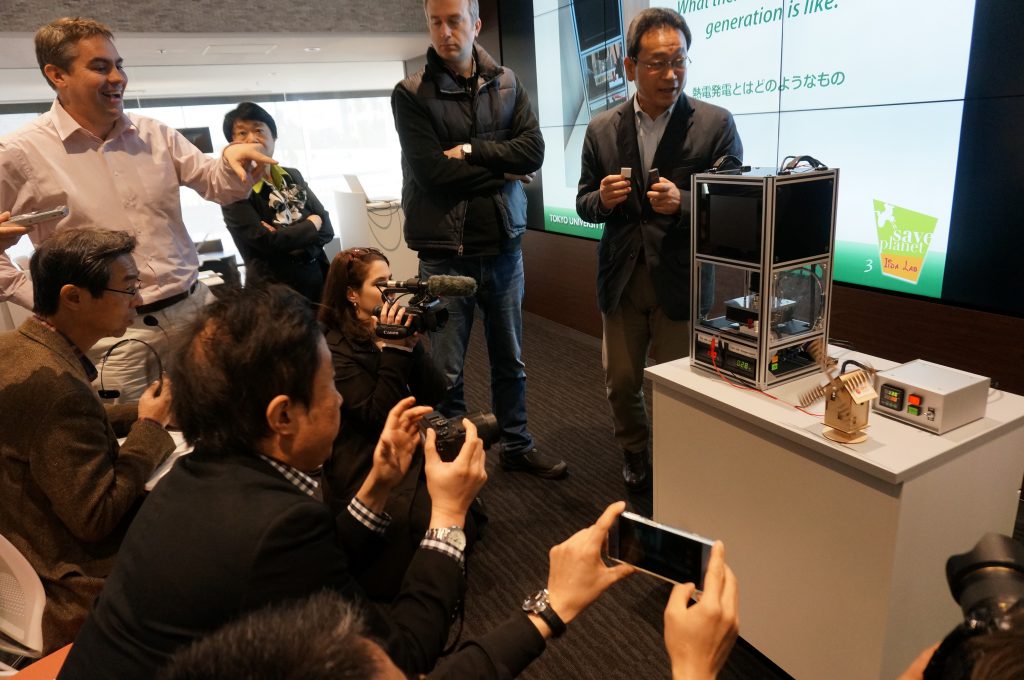 Professor Tsutomu Iida demonstrated thermoelectric generation, using a temperature differential to generate electricity, to the journalists.
There are hopes that thermoelectric generation may be used to generate electricity even at night, using the temperature differential between the interior and exterior of the space colony.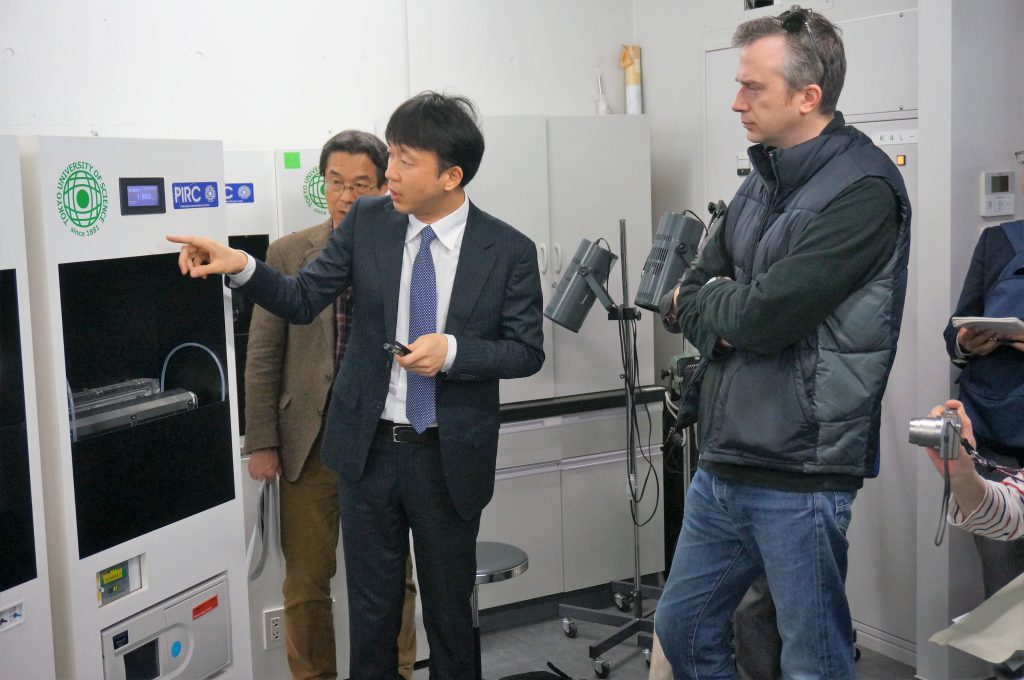 Photocatalysis can purify the air, eliminate odors, and help prevent objects from becoming dirty, and there are hopes that it will be useful for reusing water and air in space colonies. Associate Professor Kazuya Nakata demonstrated photocatalysis being used to prevent tiles from becoming dirty.
Another key area of research at the Space Colony Research Center is developing technology to enable self-sufficiency for food. The photos show Associate Professor Chiaki Terashima producing a liquid fertilizer used for hydroponic cultivation of vegetables, and the journalists taking photos of turnips and potatoes being cultivated.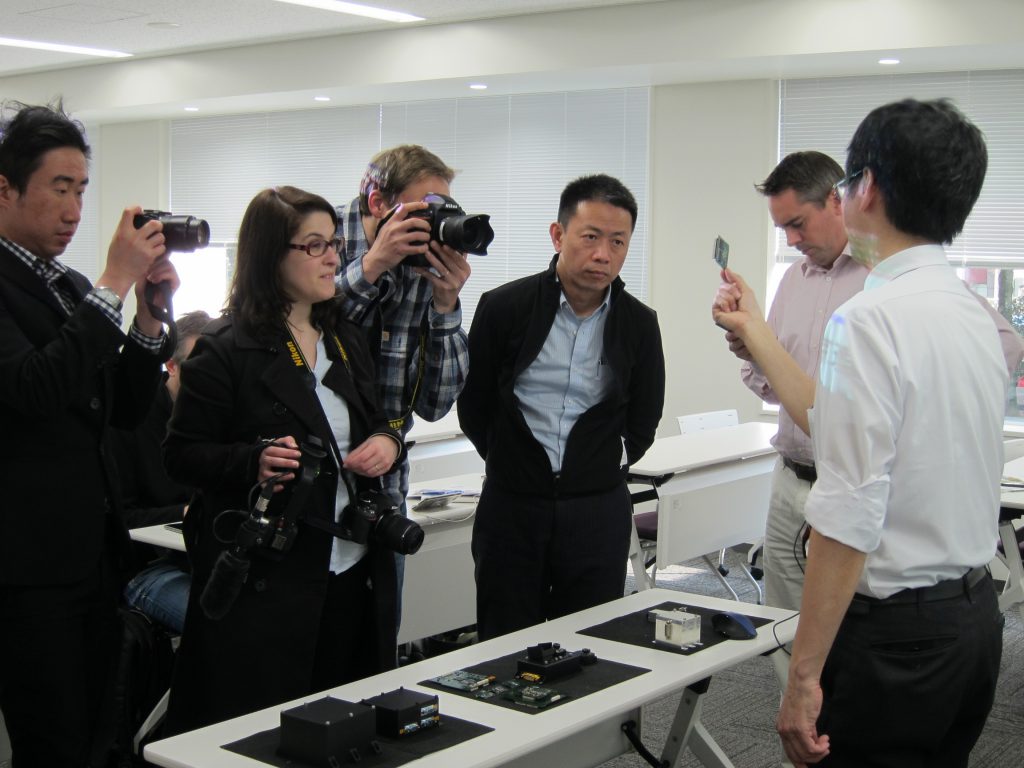 Professor Shinichi Kimura has developed a miniature computer with one of the fastest processing speeds in the world, along with one of the lightest cameras in the world.
These components are planned to be installed on satellites used to retrieve space debris.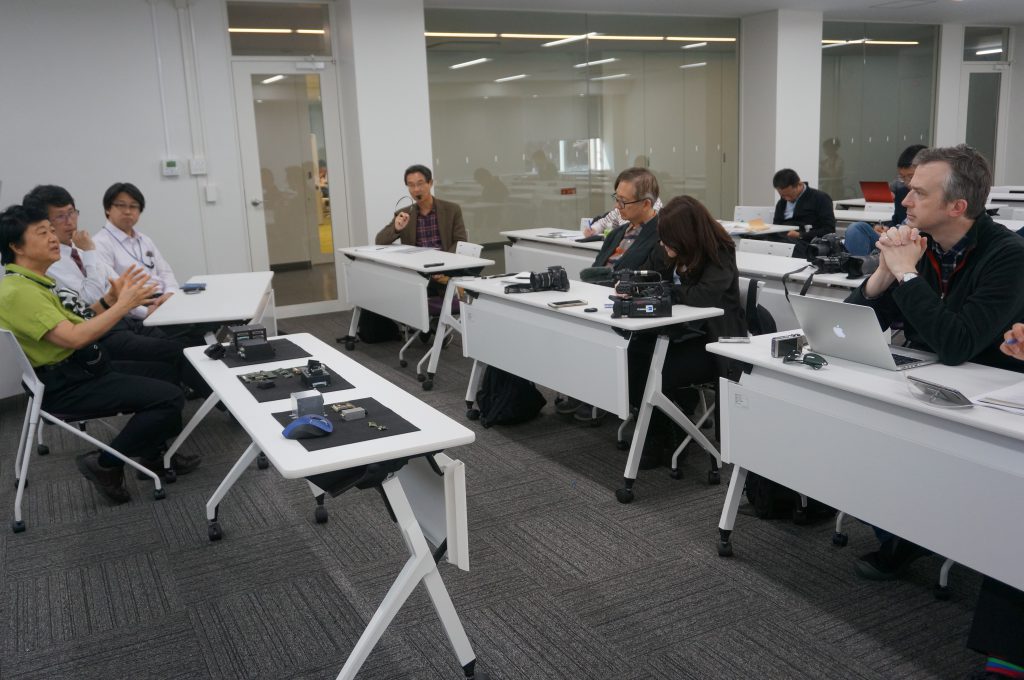 A final Q&A session was held with Director Mukai, Professor Kimura, and Assistant Professor Terashima.
Journalists asked questions such as what Japan's strengths were in space development, considering various companies around the world have begun entering the field.
◆News Reports by Participants
March 30, 2018, AFP (France, news agency), "Out of this world: Inside Japan's space colony centre"
https://japantoday.com/category/tech/Out-of-this-world-Inside-Japan%27s-space-colony-center
April 5, 2018, The Straits Times (Singapore, newspaper), "Fancy living on the moon? Japan studying colony tech"
http://www.straitstimes.com/singapore/fancy-living-on-the-moon-japan-studying-colony-tech
April 10, 2018, Agencia EFE (Spain, news agency), "Colonias espaciales en la Luna, la realidad que diseña Japón para 2030"
https://www.elpais.com.uy/vida-actual/colonias-espaciales-luna-realidad-disena-japon.html