Date : September 20 - 28, 2012
Report: Assistance for CNBC Arabia (September 20-28, 2012)
post date : 2013.08.21
Invited by Toyota Motor Corp., a TV crew of CNBC Arabia, which is headquartered in Dubai, United Arab Emirates, and one of the three largest television networks in the Middle East, came to Japan to cover this country's environmental technologies. FPCJ cooperated in arranging part of their schedule in Japan. 
First, the crew headed by Ms. Nagwa Assran, CNBC's Kuwait Bureau Chief, visited the Roppongi Hills complex in Tokyo to cover its energy-saving technologies and the rooftop garden. They also toured a plastic bottle recycling plant of JFE Kankyo Corporation in Kawasaki City.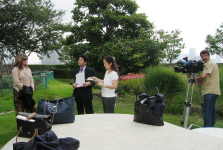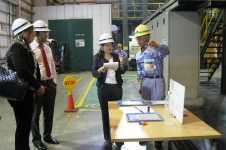 (Picture left: Ms. Assran reporting on the rooftop garden of Roppongi Hills.) 
(Picture right: Ms. Assran touring JFE Kankyo's plastic bottle recycling plant) 
Outside the Tokyo Metropolitan area, the crew visited Noto Peninsula, Ishikawa Prefecture, to cover the Noto Smart Drive Project, a joint project of the Prefecture and Toyota. They also visited Toyota City, Aichi Prefecture, to tour the newly-opened Toyota Ecoful Town that showcases the city's efforts to build a low-carbon society. 
In Kyoto City, they visited Kyocera Corporation to interview senior officials in the solar business department and also enjoyed sightseeing.
Their report based on their stay in Japan was broadcast on October 21, 2012 in a Sunday prime-time program called "In Green." The program regularly features different enterprises that focus on developing environmental technologies to introduce their latest technologies and products. The program has about 1.2 million viewers mainly in Saudi Arabia and UAE.