Date : December 3 - 11, 2011
Report: Assistance for TELETICA, Costa Rica (Dec. 3-Dec. 11, 2011)
post date : 2013.08.21
A TV crew of Televisora de Costa Rica (TELETICA), the largest broadcaster in Costa Rica, came to Japan to cover the country's efforts to recover from the Great East Japan Earthquake. The TV crew also did filming at various locations in Tokyo for a 13-minute special report to introduce the city of Tokyo. 
****************************************
To cover a tsunami-hit area, Ms. Natalia Romero, a TELETICA reporter, and other crew members visited Ishinomaki City, Miyagi Prefecture. In cooperation with JEN, an NGO that engages in reconstruction assistance in the city, they visited temporary housing to interview a woman who lost her house in the disaster. They also covered JEN's activity to support the reconstruction of the local fishing industry, toured a coastal area that had been severely damaged by the tsunami, and filmed an elementary school where many students died in the disaster.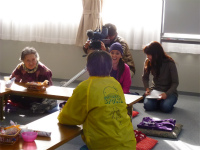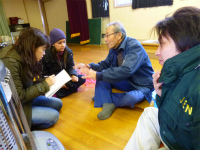 Photo Credit:JEN
(Reporter Natalia Romero interviewing local people in disaster-hit Ishinomaki City.)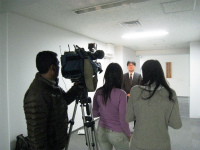 In Tokyo, Ms. Romero interviewed Mr. Yoshio Ando, Counselor of the Secretariat of Reconstruction Headquarters, about what the government has done and what it plans to do for reconstruction (Picture on the right).
To make a TV report to introduce the city of Tokyo, the crew did filming at various locations such as a karaoke shop and a busy crossing in Shibuya, an electronics retail store in Akihabara, Shinjuku's Kabuki-cho, one of the biggest amusement areas in Japan, and Harajuku, a popular hangout for young people. 
The report based on their visit to Japan is scheduled to be broadcast in a major news program called 7dias in January 2012.