Date : August 3 - 11, 2011
Report: Assistance for La Presse, Quebec, Canada (August 3-11, 2011)
post date : 2013.08.20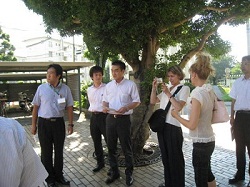 Helen Baril, a journalist from La Presse, a daily newspaper in Quebec, Canada, visited Japan to cover the economic impact of the declining birthrate and aging population, and the 3.11 earthquake. La Presse, the biggest French-language newspaper in Canada, was founded in 1884 in Montreal (approx. 210,000 circulation).
 The Foreign Press Center/Japan arranged interviews with the Ministry of Health, Labor and Welfare, Dr. Atsushi Seike, President of Keio University, Keidanren, Shiseido and Dr. Hiroko Akiyama, Project Professor of the Institute of Gerontology, University of Tokyo. Ms. Baril also visited Toyoshikidai, Kashiwa City, Chiba, which has been getting much attention with its new project to build a community that is prepared for a super-aging and long-lived society.
Three-day running stories based on her visit to Japan will be published in the middle of September.