Date : August 8 - 9, 2011
Report: Assistance for The Fiscal Times, United States (Aug.8-9, 2011)
post date : 2013.08.20
Merrill Goozner is a journalist and writer based in Washington D.C., United States. After serving as Chief Economics Correspondent for the Chicago Tribune including time spent in Tokyo as its Chief Asia Correspondent, and teaching journalism at New York University, in 2010, he joined The Fiscal Times, a digital news, opinion and media service reporting on vital fiscal, budgetary, health care and economic issues.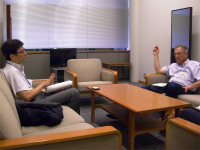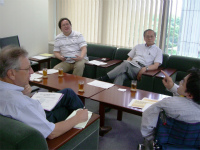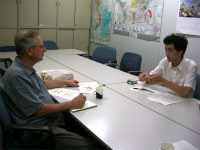 During his stay in Japan this time, Mr.Goozner covered "Economic Impact brought by Disaster," "Japanese Nuclear Power and Alternative Energy," "Ageing Society Projections in Japan and its Fiscal Problem" and "Future Presence of U.S bases in Japan" . 
FPCJ provided assistance by arranging interviews with Mr. Noriyuki Shikata, Deputy Cabinet Secretary for Public Relations, Ministry of Defense, National Institute of Population and Social Security Resarch, and  The Institute of Energy Economics, Japan.