Date : June 15 - 19, 2013
Report: Assistance for the 2013 Spring Jefferson Fellowships Program (June 15-19, 2013)
post date : 2013.08.24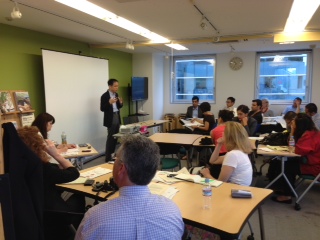 FPCJ provided support for a group of journalists participating in the 2013 Spring Jefferson Fellowships Program of the East-West Center, Hawaii by arranging some of their appointments during their visit to Japan from June 15 to 19.
"The Jefferson Fellowship Program" is a training program for working journalists starting in 1967. Each year 10 or more journalists from the Asia-Pacific region and the United States participate. In 2013, 16 journalists from 10 countries attended a 3-week program whose theme was "New Leadership in Asia-Pacific: Solving Old Problems, Managing New Realities." After sessions in Honolulu, they travelled to Tokyo, Beijing, and Yangon.
In Tokyo, the program focused on how Japan will overcome its entrenched political, economic and social difficulties and cope with tnew power dynamics within the region, particularly the rise of China.The fellows exchanged views with a variety of government officials and experts.
FPCJ arranged their interviews with Mr. Susumu Takahashi, Chairman of the Japan Research Institute, and Prof. Yoko Ihikura, Graduate School of Keio University. The topic of both interviews was "Abenomics," the issue of greatest interest to participating journalists during their trip to Japan. Through these dialogues, the journalists deepened their understanding on the potential benefits and risks of "Abenomics," together with the importance of women, for Japan's revival.
FPCJ also arranged the group's visit to ETIC, a non-profit organization that assists young people to launch entrepreneurial businesses. By exchanging views with Mr. Haruo Miyagi, Executive Director of ETIC, and with young entrepreneurs who persevere in their efforts to overcome the obstacles posed by Japan's traditional social systems, the participants discovered positive signs pointing to a brighter future for Japan.
(Photo: Meeting with Mr. Miyagi of ETIC)