Date : December 17 - 23, 2017
Fellowship Program: Canada, National Post, Marie-Danielle Smith, parliamentary reporter
post date : 2018.01.15
As part of the 2017-2018 FPCJ Fellowship Program, Ms. Marie-Danielle Smith, parliamentary reporter for the National Post (Canada), visited Japan from December 17 to December 23, 2017.
The National Post is one of Canada's leading national papers, headquartered in Toronto, Ontario. Ms. Smith writes for the paper as a parliamentary and political reporter. This fellowship was her first time reporting in Japan, and she covered three main themes: security, population decline, and the TPP/Canada-Japan economic relations.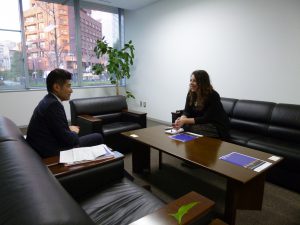 For the topic of security, she focused in particular on Japan's response to North Korea's nuclear weapons and missile development program, as well as Canada's involvement in the issue. She spoke with experts and Ministry of Defense officials on the subject
(Photo: Interviewing Dr. Narushige Michishita of the National Graduate Institute for Policy Studies)
For the theme of population decline, Ms. Smith spoke with a Cabinet Office representative about government policies to fight Japan's declining birthrate, as well as interviewing university students about the changing views of Japanese youth towards marriage and childbirth, and also attended a matchmaking event.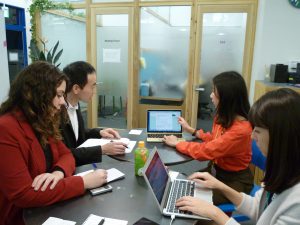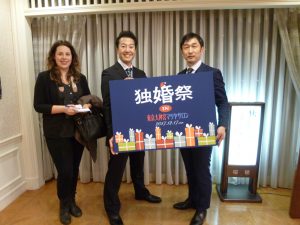 (Photo, left: Interviewing staff and president of manma, a company which holds "family study" programs in which clients can follow along for a day in the life of a parent raising children, to meet lifestyle role models)
(Photo, right: Matchmaking event held at Tokyo Daijingu Matsuya Salon)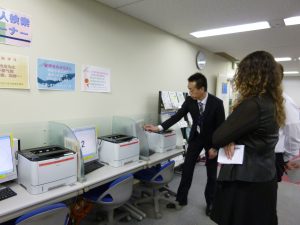 Ms. Smith visited the Ministry of Justice, the Ministry of Health, Labour and Welfare, and the Tokyo Employment Service Center for Foreigners to learn about the state of immigration and systems in place for accepting foreigners in Japan, and compare them to Canada, a country founded on immigration.
(Photo: Ms. Smith at the Tokyo Employment Service Center for Foreigners in Shinjuku)
She also visited a nursing care facility which will be accepting interns from Vietnam under the Technical Intern Training Program next spring, with nursing having been newly included in the program.
On the subject of trade issues, with Canada having announced at the November APEC meeting that the new Comprehensive and Progressive Agreement for Trans-Pacific Partnership by 11 countries which had been involved in the TPP had not yet reached a stage that Canada could agree to, Ms. Smith spoke with experts, members of the Cabinet TPP Task Force and the Keidanren, and a former Ambassador of Japan to Canada about future negotiations and potential issues between Canada and Japan.
*Articles written based on this fellowship program can be read from the links below.
1 .   In wake of Trudeau's summit no-show, Japan raises possibility of a Trans-Pacific Partnership without Canada (12/18/2017)
2.Canada and U.S. touting Vancouver meeting on North Korea, but key ally Japan is reluctant (12/19/2017)
3.  'We don't know what Canada wants': Japanese chorus of confusion grows over Trudeau's TPP position (12/21/2017)
4.North Korean missiles will 'certainly' fly over Canada, a Japanese expert says(1/2/2018)