Date : December 10 - 16, 2017
Fellowship Program: USA, The Atlantic, Siddhartha Mahanta, Reporter
post date : 2018.01.19
As part of the 2017-2018 FPCJ Fellowship Program, Mr. Siddhartha Mahanta, reporter for the Atlantic (USA), visited Japan from December 10 to 16, 2017.
The Atlantic is a news magazine with a long history, established in 1857 in Boston. Mr. Mahanta mainly writes about foreign news on the website, and also edits articles. 
Mr. Mahanta covered topics including U.S.-Japan relations under the Trump administration and the threat of North Korea, and increasing Japan's defensive capabilities. He spoke with a former cabinet member, defense experts, and officials from the Ministry of Foreign Affairs and Ministry of Defense, and learned increasing Japan's defensive capabilities is much more complicated than it seems.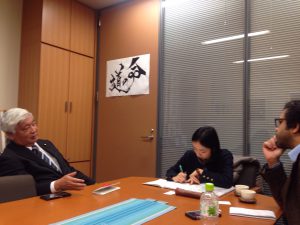 (Photo: Interviewing former Minister of Defense Gen Nakatani about U.S.-Japan relations and policies toward North Korea)
In Okinawa, he visited the Peace Memorial Museum and the area around a U.S. military base, where he learned about Okinawa's history and current situation. He also learned about the defense system of Japan's southwestern area at the Japan Air Self-Defense Force Naha Air Base.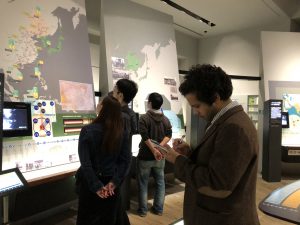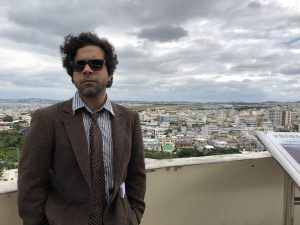 (Photo left: Visiting Okinawa Peace Memorial Museum)
(Photo right: Viewing Marine Corps Air Station Futenma from Kakazukoudai park)
*Articles written based on this fellowship will be posted on The Atlantic at a later date.