Date : November 5 - 11, 2017
Fellowship Program: USA, Yahoo News, Michael Walsh, Breaking news reporter
post date : 2017.12.21
As part of the 2017-2018 FPCJ Fellowship Program, Mr. Michael Walsh, breaking news reporter for Yahoo News (USA), visited Japan from November 5 to November 11, 2017.
As one of the most well-known news sites in the world, Yahoo News, in addition to posting articles from sources such as the BBC and major US television networks including ABC and CNN, also posts breaking news articles written by its own reporters.
Mr. Walsh covered topics including the threat of North Korea, US-Japan relations, and pacifism in post-World War II Japan and nuclear disarmament. He spoke with officials at the Ministry of Foreign Affairs and Ministry of Defense, a former Minister of Defense, and various experts. As part of the threat of North Korea, he received a briefing on the issue of abductions of Japanese citizens by North Korea from the Government of Japan Headquarters for the Abduction Issue. Mr. Walsh visited Hiroshima and Nagasaki, where he interviewed hibakusha (nuclear bomb survivors), students, and experts about pacifism in Japan and nuclear disarmament, hearing about the history of the two cities which were struck by nuclear bombs and the views of those living there.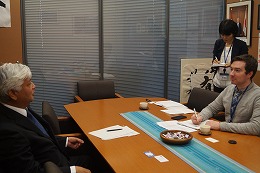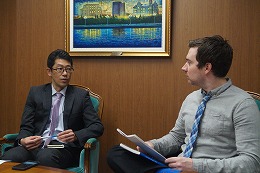 Interviews with former Minister of Defense Gen Nakatani (left photo) and with Center for the Promotion of Disarmament and Non-Proliferation Senior Research Fellow Hirofumi Tosaki (right photo)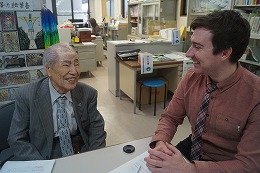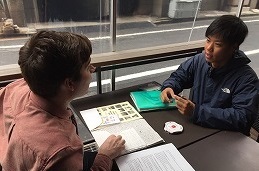 (Left photo) At the Hiroshima Peace Memorial Museum with Hiroshima Confederation of A-Bomb Sufferers Organizations Director Sunao Tsuboi
(Right photo) Speaking with Mr. Masaaki Murakami, who became a volunteer guide at Hiroshima Peace Memorial Park while in university, about why he became a guide and the state of peace education in Japan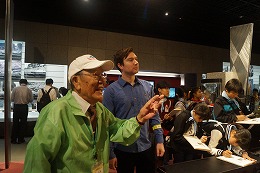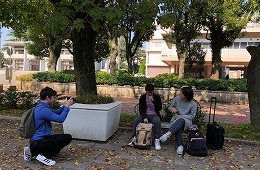 (Left photo) Touring the Nagasaki Atomic Bomb Museum with a peace guide, who also spoke about his experiences during the bombing
(Right photo) Taking photos of Nagasaki University students who were members of the Nagasaki Youth Delegation, after interviewing them

*Articles written based on this fellowship program can be read from the links below.
1."Japan's atomic dilemma: Pacifism and the threat of North Korea"(29/11/2017)
2."A look into Japan, a nation torn between peace and preparation"(29/11/2017)
   *Photo gallery
3."Japanese defense in the age of North Korean missile successes"(6/12/2017)