Date : September 3 - 9, 2017
Fellowship Program: Canada, Toronto Star, Bruce Campion-Smith, Ottawa bureau chief
post date : 2017.10.12
As part of the 2017-2018 FPCJ Fellowship Program, Mr. Bruce Campion-Smith, Ottawa bureau chief for the Toronto Star (Canada), visited Japan from September 3 to September 9.
The Toronto Star is one of Canada's three leading papers, and despite being a regional paper has highest weekly circulation in the country, with a weekday circulation of around 350,000 (Saturday 460,000; Sunday 300,000). The paper is very influential with the business community.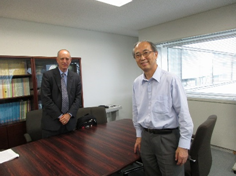 This was Mr. Campion-Smith's first visit to Japan. He visited Tokyo and Kyoto, covering the topics of Japan-Canada trade relations, Japan's peacekeeping operations, and security in Northeast Asia. 
On the topic of Japan-Canada trade relations, he spoke with government ministry officials, a representative of the Keidanren, the former Japanese Ambassador to Canada, and university professors about the future of the TPP now that the US announced its withdrawal, and the possibility of resurrecting the Japan-Canada free trade agreement.
(With Prof. Shujiro Urata at Waseda University)
Regarding Japan's peacekeeping operations and security in Northeast Asia, he interviewed ministry officials and a former member of the Japanese Self-Defense Forces. He asked about the expanded role of the JSDF after the 2015 security legislation and the future of Japanese peacekeeping operations considering those changes, and about cooperation on defense for shared threats against Japan and Canada such as North Korean missile launches, another of which took place just before Mr. Campion-Smith came to Japan.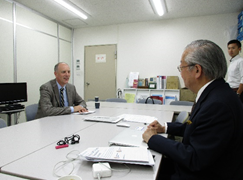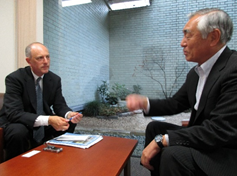 (Interviewing former Ambassador Sadaaki Numata)         (Speaking with former JGSDF Chief of Staff Ryoichi Oriki)
*Articles written based on this fellowship program can be read from the links below.
1. North Korea's weapons testing stirs worries in Japan (9/16/2017)
2. Canada working to make Pacific trade deal a reality (9/30/2017)
3. Japanese peacekeeping restrained by pacifist laws, modern-day risks(11/5/2017)