Date : June 4 - 10, 2017
Fellowship Program: USA, KMGH-TV ABC7, Marc Stewart, Journalist and News Anchor
post date : 2017.08.10
Mr. Marc Stewart, a journalist and news anchor for KMGH-TV ABC7 in the U.S., visited Japan from June 4 to June 10 as part of the 2017-2018 FPCJ Fellowship Program. Topics he frequently covers include the airline/transportation industry, environmental issues, and the local economy.
KMGH-TV ABC7 is an affiliate of the American Broadcasting Company (ABC) located in Denver, Colorado. Their website has between 700,000 and 1,000,000 visitors daily.
This was the first time Mr. Stewart visited Japan, and the topics he covered included: 1) Japan's response to the threat of North Korea, 2) The Tokaido Shinkansen, 3) A craft beer brewery located in Izu, a shop specializing in importing American craft beer, and Japanese Kit Kats, which are popular for their diverse product lineup.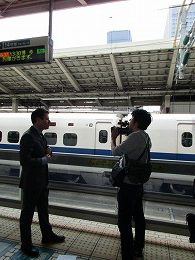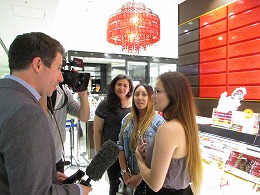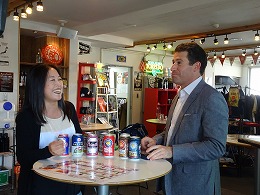 (Photo, left: Reporting on the speed of the Shinkansen from the Tokaido Shinkansen platform)
(Photo, center: Interviewing American tourists at the Kit Kat Chocolatory Daimaru Tokyo Branch in Tokyo Station)
(Photo, right: Interviewing owner Ms. Akemi Ohira at Antenna America, which sells beer from the U.S., including Colorado)
 1. "Japanese government official discusses ongoing negotiations with North Korea"(7/6/2017)
2. "Colorado airmen protect the Pacific region in Japan" (15/6/2017)
3. "Unusual Kit Kat flavors in Japan draw American tourists" (16/6/2017)
4. "See some of the unusual Kit Kat flavors from Japan"
5. "Japanese technology could help improve Colorado gridlock" (16/6/2017)
6. "Colorado's craft beers are showing up on Japanese shelves as craft brew craze heads overseas" (27/6/2017)
7. "Escalated tensions in Korea hitting Colorado military families" (4/7/2017)
8. "Precarious and personal: Japan struggles with North Korea"(9/7/2017)