Date : May 31 - June 6, 2013
Report: Journalist Invitation Program "5th Tokyo International Conference on African Development (TICAD V)." (May. 31st – June 6th 2013)
post date : 2013.08.21
The 5Th Tokyo International Conference on African Development (TICAD V), a summit on African development co-organized by the government of Japan, the United Nations, the World Bank, the United Nations Development Programme, and the African Union Commission, took place in Yokohama City from June 1 through June 3, 2013. (Click here for details.)
To cover this meeting, five journalists, from Malawi, Mozambique, South Sudan, Uganda, and the UK, visited Japan at the invitation of Japan's Ministry of Foreign Affairs (MOFA). 
At MOFA's request, the FPCJ planned and organized a program for coverage of the summit and related matters, to deepen the journalists' understanding of Japan's high quality growth.
Participants reported on activities by Japan related to the conference's three themes of "Robust and Sustainable Economy," "Inclusive and Resilient Society," and "Peace and Stability."
They also visited Miyagi Prefecture, which was severely damaged by the 2011 Great East Japan Earthquake, to report on forceful local efforts to recover from the disaster. That visit included a tour of the town of Matsushima, a scenic area and tourist destination in the area affected by the earthquake and tsunami. 
-----------------
1. 5th Tokyo International Conference on African Development (TICAD V)
During the conference, three themes, "Robust and Sustainable Economy," "Inclusive and Resilient Society," and "Peace and Stability," were discussed in terms of the conference's fundamental message, "Hand in hand with more dynamic Africa—for high quality growth." The conference concluded with adoption of the Yokohama Declaration 2013, which aims to transform Africa into an engine of global growth.
The invited journalists covered Prime Minister Abe's bilateral meeting with their countries' representatives, thematic sessions, and press conference at the conference's side events.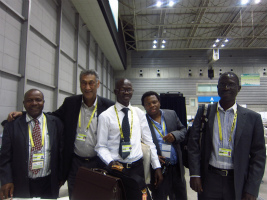 (Photo left: The invited journalists at a press conference.)
(Photo right: Group photo at International Media Center.)
They also attended African Fair 2013, one of the official side events, and reported on the Japanese company zone, which introduced Japanese technology and products and included booths presented by companies such as GS Yuasa and Toshiba, which are contributing to the expansion of the electric power grid in Africa and developing related equipment.
During the conference, traditional Japanese food was served for two days at the International Media Center to promote Japanese food culture overseas. Participants enjoyed its beautiful presentation and subtle flavors.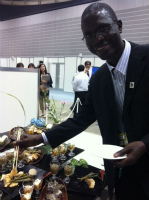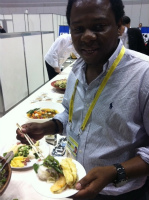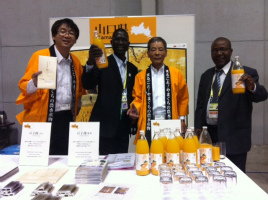 (Photo left: Enjoying beautifully served Japanese cuisine.)
(Photo right: Delicious orange juice at Yamaguchi Prefecture's PR booth.)
2. Reporting Related to Each Theme
(1) Robust and Sustainable Economy
The participants covered Japan's environmental and energy technologies and aspects of its societal infrastructure that could contribute to high quality growth in Africa.
To examine environmental and energy technologies, participants visited the Ukishima Solar Power Plant, the first mega solar power plant in the Tokyo metropolitan area. They also visited the Kawasaki Eco Kurashi Miraikan, an experiential environmental learning facility focused on renewable energy located next to the solar power plant, and learned about Kawasaki City's efforts to address global warming hand in hand with its citizens and business owners.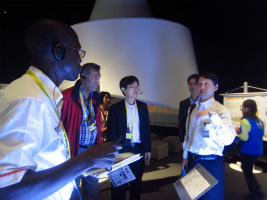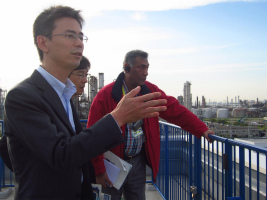 (Photo left: Visiting the Kawasaki Eco Kurashi Miraikan.)
(Photo right: Learning about solar panels.)
To gain an understanding of societal infrastructure in Japan, participants visited the Nishiya Purification Plant in Yokohama City, where technical training is being conducted for engineers from Africa. Participants were briefed on Yokohama's waterworks, its international contributions through utilization of its water purification technologies, and business development in that area, and toured the purification plant.
At Tokyo Sky Tree, the world's tallest broadcasting tower, which supports broadcasting and telecommunications in the Tokyo metropolitan area and is equipped with leading-edge disaster prevention and environmental technologies, participants received an overview of its facilities. They also enjoyed a panoramic view of Tokyo from its observation decks 350 meters and 450 meters above ground.
Participants also visited the JR East General Rolling Stock Center, where train maintenance that supports transportation services in the metropolitan area is carried out. They received an explanation about its systems and safety measures and observed trains undergoing maintenance.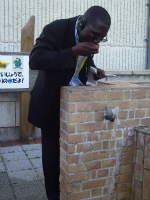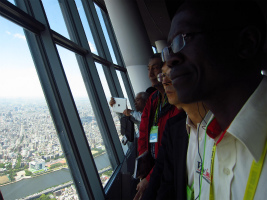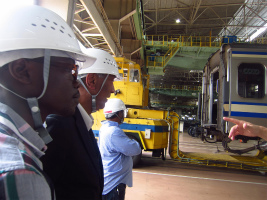 (Photo left: Drinking Yokohama water at the Nishiya Purification Plant, straight from the tap.)
(Photo center: Sunny skies and a magnificent view from the observation deck at Tokyo Sky Tree.)
(Photo right: Watching maintenance underway at the rolling stock center.)
(2) "Inclusive and Resilient Society"
Participants visited Miyagi Prefecture, one of the areas badly impacted by the 2011 Great East Japan Earthquake, and learned about the ongoing efforts of residents, young and old, male and female, to recover from the disaster, through a combination of social support and making effective use of their own abilities. 
Specifically, they covered OISCA's Coastal Forest Regeneration Project aims to regenerate coastal forests affected by tsunami, and the Agricultural Corporation Sanichi Farm, which has launched hydroponic facilities on farmland damaged by salt water and produces value-added leaf vegetables through the year.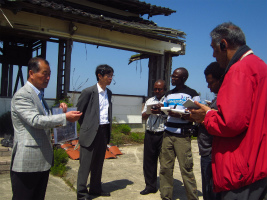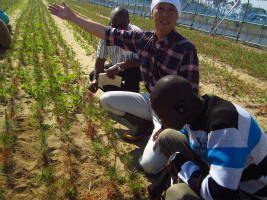 (Photo left: Receiving a briefing on Mr. Suzuki's experiences during the disaster, at the site of his former residence.)
(Photo right: Helping with weeding at a pine tree nursery; the young black pines are scheduled to be transplanted along the coast in the spring of 2014.)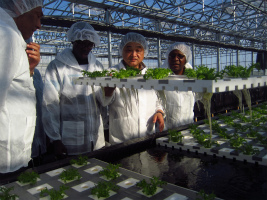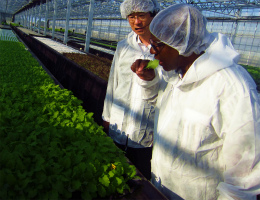 (Photo left: Observing the Sanichi Farm hydroponic facility.)
(Photo right: Tasting fresh, colorful arugula.)
Participants also reported on the Kimono Obi Project: Dual Support for the Disaster-Affect Area and Africa.
In this project, disaster victims use materials imported from Africa under a fair-trade system to make obi sashes for kimono and a variety of other Japanese-style items, receiving a percentage of the selling price for their labor. 
The reporters were briefed at the temporary housing area community center where the project participants work, observed them making obi, and also enjoyed the experience of actually putting on a yukata or summer kimono and then tying on a finished obi.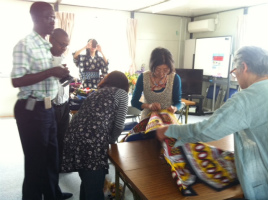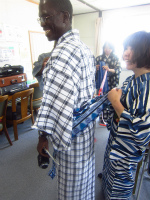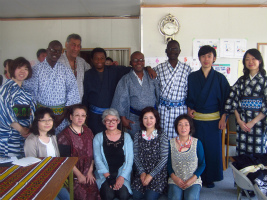 (Photo left: the most important part of making an obi is stitching the fabric together.)
(Photo center: Trying on yukata and obi.) 
(Photo right: At the Ogimachi 4-chome temporary housing.)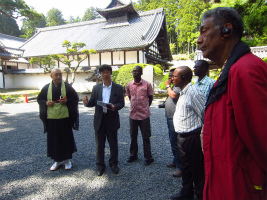 The tour to Miyagi Prefecture included a visit to Matsushima, where participants learned about the disaster's impact on the local tourism industry and explored such tourist destinations as Matsushima Bay (via a boat cruise), and Zuiganji temple, a national treasure.
(Photo right: Heard about temple's foundation history and what happened on March 11.)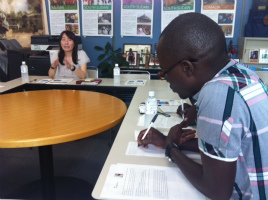 (3) "Peace and Stability" 
To deepen their understanding of this theme, participants visited the Japan Center for Conflict Prevention (JCCP), which promotes conflict prevention and peacekeeping operations in Kenya and South Sudan. During their visit, participants received a briefing on its activities and exchanged views with Ms. Seya, the Secretary General of JCCP. 
(Photo right: Listening intently to Ms. Seya's briefing.)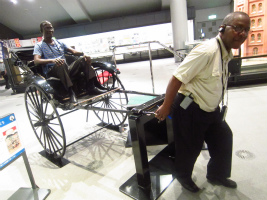 3. Tokyo half-day tour
Participants also visited the Edo-Tokyo Museum and the Odaiba area to gain a deeper understanding of the history behind the rise of Tokyo.