Date : February 19 - 25, 2017
Fellowship Program: USA, Huffington Post, Jessica Schulberg, Foreign Affairs and Security Reporter
post date : 2017.04.03
As part of the 2016-2017 FPCJ Fellowship Program, Ms. Jessica Schulberg, a foreign affairs and security reporter with the U.S. Huffington Post, visited Japan from February 19 to 25.
Huffington Post is a news site that covers breaking news and entertainment, as well as running feature articles. With 214 million visitors monthly, it is an influential site.
Ms. Schulberg is normally based out of Washington, D.C., where she covers the Middle East, but she has had an interest in Japan for some time, and was very enthusiastic about taking advantage of this valuable opportunity for her reporting. The main topics she covered were Japan–U.S. relations under the Trump administration, and public opinion in Japan on Japanese militarization (such as the security legislation passed in 2016). She interviewed a variety of people including government officials, defense and security experts, a former Ambassador to the U.S., and former military personnel.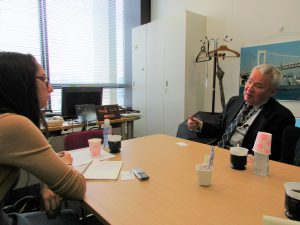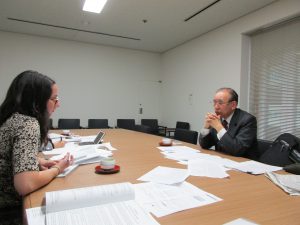 (Photo, left: Ms. Schulberg interviewing retired Japan Maritime Self-Defense Force Vice Admiral Yoji Koda, former Commander in Chief of the Self Defense Fleet)
(Photo, right: Ms. Schulberg interviewing constitutional expert and Komazawa University Professor Emeritus Dr. Osamu Nishi)
*Articles written based on this fellowship will be posted on Huffington Post at a later date.