Date : November 8 - 18, 2015
Fellowship Program: Canada, National Post, John Ivison, Chief Political Columnist
post date : 2015.12.16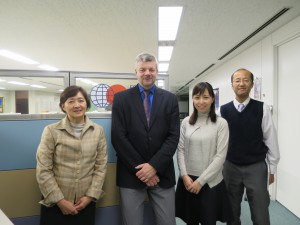 As part of the 2015–2016 FPCJ Fellowship Program, John Ivison, Chief Political Columnist for Canada's National Post, visited Japan from November 8 to 18. During the trip, Mr. Ivison visited Tokyo and Hiroshima to cover the topics of Japanese diplomacy and security, historical perceptions, and Japanese public policies for dealing with an aging society.
Mr. Ivison has worked at the National Post, a Canadian newspaper founded in 1998, since its founding. He is a veteran journalist who has been their chief political columnist for over 10 years.
(Photo: At the FPCJ)
With the Asian geopolitical environment and Japan's policies on China currently changing, Mr. Ivison is interested in Japanese diplomacy and security policies. He covered how Japan is attempting to become a "normal country" (by permitting the use of the right to collective self-defense); the relation between this new policy, increasing nationalism within Japan, and postwar pacifism; and Japanese diplomacy with respect to the rest of Asia. He interviewed government officials, a Special Adviser to the Cabinet, a former Minister of Defense, a think-tank expert, and a journalist familiar with the modern political situation in Japan. On the weekend, Mr. Ivison visited Hiroshima, visiting the Hiroshima Peace Memorial Museum and interviewing a hibakusha (atomic bomb survivor).
Mr. Ivison is also interested in the problems faced by aging societies, which are fast becoming an issue for countries around the world. He attended a briefing by the Ministry of Health, Labour and Welfare and interviewed experts about the state of aging in Japan, and about measures being taking by Japan as one of the first countries to deal with an aging society. He visited the Toyoshikidai housing complex in Kashiwa, Chiba, which is considered a test case of an aging society in a major city.
*Articles written based on this trip are linked below.
"Tension between China and Japan over islands could threaten world peace" (12/3/2015)
http://news.nationalpost.com/full-comment/conflict-is-inevitable-tension-between-china-and-japan-over-islands-could-threaten-world-peace