Date : October 12 - 22, 2015
Fellowship Program: USA, The Diplomat, Shannon Tiezzi, Managing Editor
post date : 2015.12.11
As part of the 2015–2016 FPCJ Fellowship Program, The Diplomat's Managing Editor Shannon Tiezzi visited Japan from October 10 to 22. During the trip, Ms. Tiezzi went to Tokyo, Hiroshima, and Okinawa to cover the two topics of Japanese security policy and foreign policy, and overcoming historical issues (70th anniversary of the end of WWII).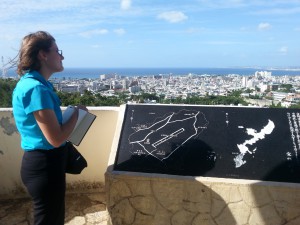 Ms. Tiezzi is the Managing Editor of The Diplomat, an online magazine covering current affairs in the Asia-Pacific region, and she works out of Washington where she reports on international relations and economics in Northeast Asia. She has covered a number of news stories on Japan before, but this was her first time researching stories in Japan, and the fellowship program provided her with an excellent opportunity to get a sense of Japan on the ground.
(Photo: Ms. Tiezzi looking over the Marine Corps Air Station Futenma )
On the topic of Japan's foreign policy and security policy, Ms. Tiezzi is interested in new developments such as the passage of the security bills, and in Japan's long-term security strategy in regards to China's increasing militarization. She spoke with government officials in the Ministry of Defense and other ministries, with a former Minister of Defense, with a Special Adviser to the Cabinet, and with university professors.
On the topic of overcoming historical issues, she mainly interviewed members of the Advisory Panel on the History of the 20th Century and on Japan's Role and the World Order in the 21st Century, regarding China and South Korea's reactions to the Abe Statement and the influence proposals by the Advisory Panel have had on government policy.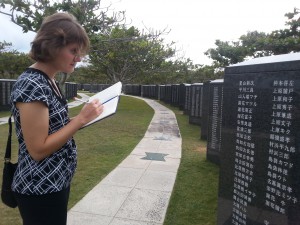 Regarding the issue of relocating the US military base in Okinawa, in an effort to look for possible solutions Ms. Tiezzi interviewed people in a number of different positions such as a local business operator, the chairman of an NPO, and a former member of the Shiraume student nursing corps. Covering the same topic, she also visited the Center of the Tokyo Raids and War Damage and Yasukuni Shrine in Tokyo, the Hiroshima Peace Memorial Museum, and the Okinawa Prefectural Peace Memorial Museum.
                                                                                                             (Photo: Ms. Tiezzi at Okinawa Prefectural Peace Memorial Park)
*Articles written based on this trip are linked below.
"China, Japan Hold High-Level Talks, Prepare for Trilateral Summit" (10/14/2015)
http://thediplomat.com/2015/10/china-japan-hold-high-level-talks-prepare-for-trilateral-summit/
"China Tests Japan's Resolve Over East China Sea" (10/21/2015)
http://thediplomat.com/2015/10/china-tests-japans-resolve-over-east-china-sea/
"Why Japan Won't Get Too Involved in the South China Sea" (10/29/2015)
http://thediplomat.com/2015/10/why-japan-wont-get-too-involved-in-the-south-china-sea/
"Beyond Futenma: Okinawa and the US Base Conundrum" (11/4/2015)
http://thediplomat.com/2015/11/beyond-futenma-okinawa-and-the-us-base-conundrum/
"How Japan Views History" (11/30/2015)