Date : September 7 - 16, 2015
2015 Fellowship Program for Asian Journalists "Recovery and Lessons from the Great East Japan Earthquake–Japan's Coexistence with the Sea"
post date : 2015.11.06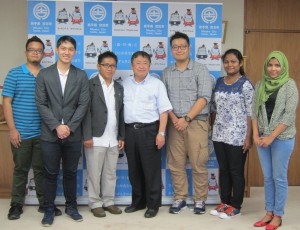 From September 7 to 16, 2015, the 2015 Fellowship Program for Asian Journalists was held based on the theme of "Recovery and Lessons from the Great East Japan Earthquake–Japan's Coexistence with the Sea." The program's goal was to invite journalists from Asian countries which are at risk of tsunamis and storm surges, and have them cover disaster prevention and reduction strategies based on experiences during the Great East Japan Earthquake. Six reporters participated in the ten-day program, which took place in Tokyo and in disaster-affected regions.  The reporters were from the Philippines, Malaysia, Indonesia, Thailand, Sri Lanka, and Maldives.
*This project was carried out with support from the Nippon Foundation and the Toshiba International Foundation.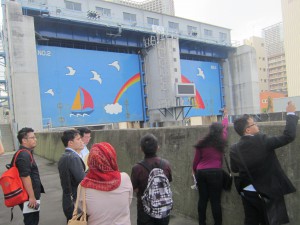 Like Japan, many Southeast and East Asian countries are in danger from tsunamis and storm surges. In the 2004 Indian Ocean earthquake and tsunami, over 220,000 people died or went missing along the Indian Ocean coast. Japan has been struck by disaster numerous times, including the Great East Japan Earthquake, and has accumulated disaster-prevention knowledge and skills to become a country with advanced disaster prevention. However, since the media organizations of many of those Asian countries do not have bureaus located in Japan, knowledge of Japanese disaster prevention is unfortunately not widely available in their home countries.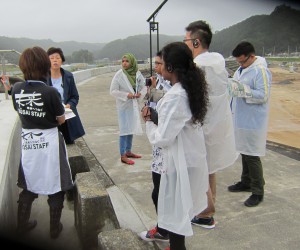 The goal of this project is to have journalists from these countries, who do not normally have the opportunity to cover Japan, cover post-disaster Japan based on their own viewpoints, and through their reporting increase disaster awareness and improve future disaster prevention initiatives in their countries. The six participants are all from major news organizations in their countries, which face the risk of coastal disasters.
The Tokyo portion of the ten-day program included briefings by government officials, interviews with experts, and on-site tours. From these, the participants learned about the recovery from the Great East Japan Earthquake, Japan's disaster-prevention government administration, the tsunami warning system, methods to prevent flooding and storm surges in Tokyo, cooperation with Asian countries on disaster prevention, and media preparations for reporting during disasters.
In the Tohoku portion of the tour, the group travelled from Miyako, Iwate to Kesennuma, Miyagi along the Pacific coast of the Tohoku region, which was severely damaged by tsunamis during the disaster, interviewing local residents and government officials along the way. Through these interviews and visits to various sites, the participants learned about efforts to develop towns resistant to disasters, disaster awareness education, recovery of the fishing industry and training of new workers, and initiatives for recovery in harmony with nature. 
The journalists showed particular interest in the following three topics: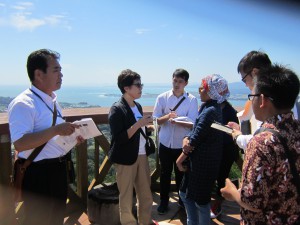 ①Recovery in harmony with nature (Kesennuma-Oshima, Miyagi)
An initiative is underway to minimize manmade installations, such as levees, by using natural features such as coastal forests to reduce disaster risk, in order to protect the view and natural environment of the island. The journalists visited the site of these efforts and were briefed by members involved in the initiative.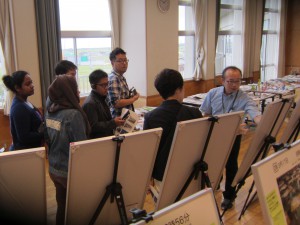 ②Disaster safety education (Shichigo Elementary School of Sendai City)
In order to ensure that the lessons of the Great East Japan Earthquake aren't forgotten, disaster safety classes are held in which students learn the knowledge and skills necessary to prepare them for disasters. The journalists watched a disaster safety class being taught to Grade 6 students. The journalists' visit to this school was covered in an article in a local paper.
Kahoku Shimpo
http://www.kahoku.co.jp/tohokunews/201509/20150910_13018.html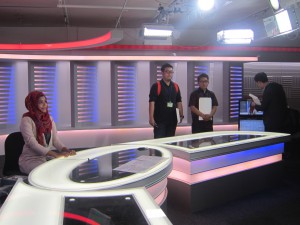 ③Natural disasters and the role of the media (NHK News Department Meteorology/Disaster Center)
The journalists heard how NHK improved the audio and video used to encourage people to evacuate when a tsunami warning is released based on the lessons learned from the Great East Japan Earthquake. The role media organizations can and should play in disaster prevention and reduction was also explained.
Journalist comments after the program included: "Covering Japan's advanced initiatives, which can help with disaster prevention measures in my own country, was a valuable experience," "It was beneficial to be able to cover initiatives such as disaster education at schools, as well as infrastructure such as levees," and "By reporting on what I learned while in Japan, I hope to light a fire under my government which has been slow with disaster education in particular."
Articles based on the fellowship have already been published by the participants. A separate report on these articles will be made available later. 
<Participants>
[Philippines] Mr. Jan Mateo, The Philippine Star
[Thailand] Mr. Sonaphat Promtong, Matichon
[Malaysia] Mr. Teng Han Tan, Sin Chew Daily 
[Indonesia] Mr. Eko Priyono, Jawa Pos
[Sri Lanka] Ms. Maheesha Mudugamuva, The Island
[Maldives] Ms. Shifleen Aiminath, Haveeru Daily