Date : September 8 - 14, 2013
Report: The first "Invitation Program for Young Egyptian Journalists" of the Sasakawa Peace Foundation
post date : 2013.10.18
Two young Egyptian journalists of "Al Akhbar," a leading Egyptian daily, visited Japan from September 8 to 14 on an "Invitation Program for Young Egyptian Journalists" of the Sasakawa Peace Foundation (the Sasakawa Middle East Islam Fund). Commissioned by the foundation, FPCJ set up and ran the program.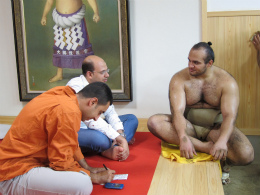 "Al Akhbar" is an Arabic daily rapidly expanding its readership in Egypt; a recent survey has revealed that the paper has more supporters than "Al Ahram," the well-established daily representing Egypt.
The two reporters covered the Ministry of Foreign Affairs, Osunaarashi, the first Egyptian Sumo wrestler from the entire Africa and Middle East region, who has achieved sekitori (top division) status, and the Kinki Sharyo, Co., Ltd., which for more than 50 years has been exporting railroad vehicles to Egypt.
As pollution and traffic congestion have been posing serious social problems in Egypt, this program covered Japan's world-class environmental technology and infrastructure for the development of Egypt; the journalists visited Kawasaki City, which is now a world-level environmentally advanced city after overcoming serious pollution; the Traffic Control Center of the Metropolitan Police Department; a most advanced facility for waste disposal to achieve a recycling-oriented society; and a water purification plant at the Yokohama Waterworks Bureau. The Bureau gives technological assistance to Egypt and other African countries.
The reporters also visited the Asahi Shimbun and NHK (Japan Broadcasting Corporation) to exchange views with former correspondents in Cairo about the current situation in Egypt, and to observe how their counterparts are working.