Date : January 16 - 24, 2012
Report: Journalist Invitation Program "Japan's Efforts to Recover from Great East Japan Earthquake -European Group-" (Jan. 16- Jan. 24, 2012)
post date : 2013.08.20
Invited by Japan's Ministry of Foreign Affairs (MOFA), 10 journalists from Europe (Austria, Finland, Italy, Netherland, Russia, Slovenia, Spain, Sweden, Switzerland and Ukraine) came to Japan to cover the country's efforts to recover from the Great East Japan Earthquake. The major topics for this visit were: revitalization efforts through tourism, and Japanese cuisine and culture. The program kicked off with briefings by government officials from MOFA, the Japan Tourism Agency, and the Ministry of Agriculture, Forestry and Fisheries. In the briefings, the invited journalists learned about what the government has done and what it plans to do for reconstruction such as efforts to recover the number of foreign visitors to Japan, and Japanese Cuisine and food related culture. Aiming to inform tourism attraction to foreign visitors to Japan, the journalists visited popular places such as the Tokyo Sky Tree and Akihabara. They also had an opportunity to visit Hiraizumi, Matsushima and other popular tourist destinations in Iwate and Miyagi Prefectures to learn of their efforts toward revitalization of tourism in the Tohoku area. From Sendai airport, they took a flight to Kansai to experience Japanese tradition and cuisine through visiting Wakayama Prefecture. After visiting the mountain-top Buddhist complex on Mount Kōya, they went to Yuasa town, which is known as the birthplace of Japanese soy sauce, and a Japanese sake brewery in Kainan City.
*This program was hosted by MOFA and organized by the Foreign Press Center/Japan.
**********************************************Main destinations of the trip*************************************************
"New hot tourist spots in Tokyo"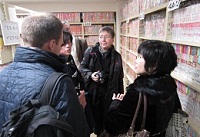 The journalists visited Meiji University, which is aiming to establish the "Tokyo International Manga Library", the world's largest collection of manga, anime and game-related materials, in 2014. Associate Professor Ms. Yukari Fujimoto and Mr. Kaichiro Morikawa conducted a briefing on Japanese Manga culture and Otaku (geek) culture. After the briefing, they visited figure and anime shops in Akihabara guided by foreign students from Germany, the United States and the United Kingdom who are studying Japanese pop culture at the university.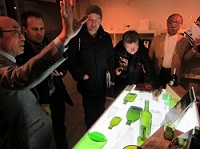 An event called "Monomachi" (town of creation) is a new idea of to revitalize an old town in Taito Ward by attracting tourists. It is the idea of a combination of "Monozukuri" (Japanese craftsmanship), "creators" and "festival". Taito Ward is known as a town of artisans which is just beneath the Tokyo Sky Tree. Mr. Seiichi Kimoto, Chairman of the executive committee of Monomachi, and Mr. Jun Suzuki, Incubation Manager of Taito Designers Village, explained their activities.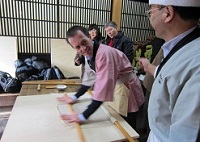 With a history of 1300 years, Jindaiji is the second oldest temple in Tokyo after Sensoji. The group had a chance to experience to make soba noodles in the priest's quarters, and ate soba of their own making for lunch.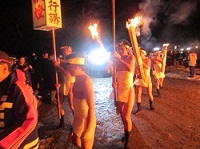 "Efforts to revitalize tourism in the devastated areas"
At Hiraizumi's Chusonji Temple, the journalists learned about the aftermath of the disaster, and the role of religion in thissituation from the chief priest of the temple. They also visited Motsuji Temple on January 20th for a unique experience of watching the annual night festival to cover a parade of men in loincloths in carrying torches in the freezing cold night.
"Wakayama Prefecture: Japanese traditions and food culture"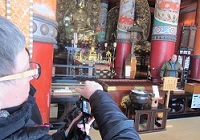 In recent years, more than 1.2 million tourists visit Koya Town each year. The town officials described their efforts to attract foreign tourists by preserving the landscape, for instance, by laying power lines underground and building Japanese-style telephone boxes. They are also trying to set up town maps using universal pictograms so that foreigners can understand them easily. After the briefing, the journalists visited the historic sites in the town. They also had a chance to interview Mr. Yoshinobu Nisaka, Governor of Wakayama, and eat Shojin ryori (temple vegetarian cuisine) in the temple lodgings.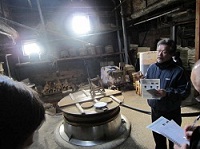 Yuasa Town, known as the birthplace of soy sauce, was selected as an important transitional building preservation area by the Agency for Cultural Affairs in December 2006. The journalists visited Kadocho Co., a shoyu manufacturer. founded in 1817, to see its soy sauce storehouses which they have been using since the company's foundation. Mr. Kano, the president of the company, also guided them to their museum which preserves old tools and account ledgers.