Date : September 20, 2016
Report: Present and Future of Japan-China Relations by Prof. Akio Takahara, Vice-dean of Graduate School of Public Policy, The Univ. of Tokyo
post date : 2016.10.07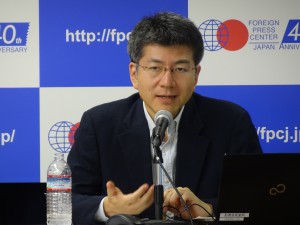 On September 20, the FPCJ invited Dr. Akio Takahara, Professor of the Faculty of Law and Vice-dean of the Graduate School of Public Policy at The University of Tokyo, to discuss the present and future of Japan-China relations. The briefing had a total of 43 attendees, including 18 foreign journalists and 20 embassy officials, from countries and regions including Australia, China, Hong Kong, South Korea, Taiwan, the US, and Vietnam.
Professor Takahara started by mentioning that while the four factors leading to an improvement in Japan-China relations since the November 2014 summit are still in effect (security, economy, international relations, domestic politics), they have not remained completely unchanged. He explained that there have been changes in China's domestic politics, with several events making it seem that Xi Jinping's power base is not necessarily unshakeable. Although the Xi administration is attempting to carry out dramatic economic structural reforms, local governments tend to resist them since eliminating zombie companies and increasing unemployment will cause social instability. The economic growth rate is already negative in Liaoning, one of the northeastern provinces where there is significant economic slowdown, and since it has many state-owned companies it is also a province where some of the most dramatic reforms are necessary, which the professor mentioned might be part of the reason behind many of the National People's Congress representatives from Liaoning losing their posts due to corruption charges. A crackdown on corruption has also been one of the key policies of the Xi administration, but Dr. Takahara noted this has led to bureaucrats becoming less motivated towards their work, further worsening the economic slowdown. Although some local government leaders had begun calling Xi Jinping the core of the party, that movement died out before it caught on completely, which was a significant blow to Xi Jinping's authority, and according to the professor this could be a sign that political tug-of-war between high-level leaders has already begun in advance of next year's 19th National Congress of the Communist Party of China. The professor also mentioned power struggles would become more drastic moving towards the congress, such as how an open letter calling for Xi Jinping's resignation was posted in March on an internet site that was practically government media, and how recently there had been a lot of movement of officials in regional posts.
Regarding issues between Japan and China, Dr. Takahara explained although Japan was maintaining a consistent stance that conflicts should be resolved peacefully, a Chinese military ship entered the contiguous zone waters around the Senkaku Islands for the first time in June, followed by many coast guard vessels in August, demonstrating an increase in pressure on Japan. The professor listed six possible reasons/aims for this hardline stance as: 1) To suppress Japanese criticism of China about the South China Sea issue, 2) By acting aggressively, make other countries fear, and side with, China, 3) Domestic solidarity (criticism from within China is the Communist Party's biggest fear, not critique from other countries), 4) Increasing nationalism, 5) Institutional benefits of the Chinese Navy and Coast Guard, and 6) Xi Jinping's personality.
However, despite continuing tense relations, at the third Abe-Xi summit on September 5 this year both sides confirmed their basic stance with positive comments about improvements in Japan-China relations, and agreed to reopen negotiations based on the 2008 agreement to cooperate on development in the East China Sea, and indicating the importance of quickly establishing a maritime-air communication mechanism.
Dr. Takahara noted a key factor for the future of Japan-China relations was whether the points agreed upon at the September summit would be carried out, whether a fourth summit would take place at the November APEC meeting, and whether China would show restraint in its actions. He also noted the importance of whether constructive talks could be held at the Japan-China-South Korea trilateral summit. The professor concluded by saying that in any case, the key was China showing self-restraint, and major sources of concern were how the Chinese domestic situation will change: whether the power struggle will intensify, the economic slowdown progresses, and society becomes further destabilized.
Journalists asked questions about the impact of the North Korean nuclear issue on Japan-China relations, the influence of China taking a hard line against Japan on Japanese politics, and China's goal in the East China Sea.
[Note]
If you have published an article, photo, or a program based on our press briefing report, please provide us with the (1) title of article(s) or product(s), (2) author's name, (3) published/broadcast date of your report, and (4) a copy of or a link to your report (if available) via email ( cp[at]fpcjpn.or.jp ).
*Please replace "at" with "@" when you send the Email.