Date : April 15, 2016
Report: Inbound Tourism in Japan and Japan's New Tourism Strategy by Ms. Akiko Yoshida, JNTO Executive Vice President
post date : 2016.05.16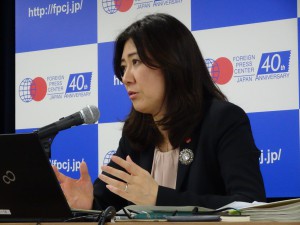 On April 15, the FPCJ invited Ms. Akiko Yoshida, Executive Vice President of the Japan National Tourism Organization (JNTO), to speak about the current state of inbound tourism in Japan and Japan's new tourism strategy. There were 38 participants in the briefing, including 14 journalists from countries such as China, France, Germany, Italy, and the USA, and 15 embassy officials from countries including Brazil, China, Germany, and South Africa.
Ms. Yoshida mentioned the Tourism Vision to Support the Future of Japan announced by the government on March 30 to make tourism one of the major pillars of the growth strategy of Japan. It includes new goals such as 40 million foreign tourists and 8 trillion yen in spending by foreign tourists in 2020, both twice the results for 2015. She also touched on the "3 Perspectives and 10 Reforms" listed in the Vision, including opening appealing governmental facilities for public viewing and utilizing tourism resources such as national parks and Cultural Properties.
She also explained the current state of inbound tourism, providing background on the creation of this new Vision. Since 1964, the number of foreign tourists to Japan maintained a gradual increase, but that increase became greater once the government began its campaign in 2003, and increased significantly again from 2012 onwards. In 2015, the number of Japanese tourists going overseas was surpassed by the number of foreign tourists to Japan, at 19.74 million. This sudden increase saw Japan's World Tourism Organization (UNWTO) ranking for inbound tourism increase from 31st in 2004 to 22nd in 2014, demonstrating the rapid increase in international awareness of Japan as a tourist destination. Several reasons were given for this rapid increase in inbound tourism: continued promotion by the Visit Japan Campaign carried out by the Japanese government since 2003 succeeding in increasing awareness of Japan as a destination with its natural beauty, varied traditional culture, and Japanese cuisine even being registered as part of the World Heritage List; and the Action Program toward the Realization of Japan as a Tourism-Oriented Country created yearly by the Ministerial Council on the Promotion of Japan as a Tourism-Oriented Country since 2013, with the government as a whole working on a system to accept more foreign tourists with visa exceptions, relaxation of requirements, and expanded immigration management, and with implementation of a new system for duty-free stores. As a structural factor supporting these elements, Ms. Yoshida pointed out the increase in members of the middle class able to travel overseas due to economic growth in Asia. Also, in recent years the number of foreign tourists visiting areas outside the "Golden Route" of Tokyo, Osaka, and Kyoto has been increasing, with 29 out of the 97 airports in Japan handling international flights, and a massive increase in the number of flights by low-cost carriers to regional airports. 
The journalists asked a number of questions after the briefing, such as how the lack of hotels in big cities was being dealt with; about further improvements to Wi-Fi and healthcare services for foreign tourists; about increased utility for the Japan Rail Pass; and the relation between the number of foreign tourists, the exchange rate, and the economy of East Asia.    
[Note]
If you have published an article, photo, or a program based on our press briefing report, please provide us with the (1) title of article(s) or product(s), (2) author's name, (3) published/broadcast date of your report, and (4) a copy of or a link to your report (if available) via email ( cp[at]fpcjpn.or.jp ).
*Please replace "at" with "@" when you send the Email.