Date : September 15, 2015
Report: Present and Future of Japan-China Relations by Dr. Akio Takahara, a professor at the University of Tokyo Faculty of Law and Graduate Schools for Law and Politics
post date : 2015.11.11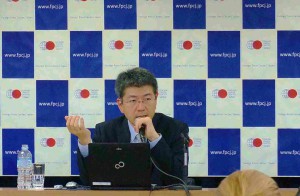 With the decision made that Prime Minister Abe would not visit China in September, and significant attention on Japan-China relations, the FPCJ invited Dr. Akio Takahara, a professor at the University of Tokyo Faculty of Law and Graduate Schools for Law and Politics, to speak about the present and future of Japan-China relations. Dr. Takahara is an expert on Chinese politics and international relations in East Asia, and served as secretary general of the New Japan-China Friendship Committee for the 21st Century until December 2014.
The briefing had a total of 46 attendees, including 15 journalists from China, Russia, the USA, South Korea, Taiwan, France, and Australia.
First, Dr. Takahara explained how the tension between China and Japan over China's maritime expansion in the East China Sea had been continuing since the conflict over the Senkaku Islands in 2012, but with two summits between Prime Minister Shinzo Abe and President Xi Jinping held near the end of last year, there was a noticeable trend towards improvement of Japan-China relations. He explained that the reason behind this trend was China moving to reconcile with Japan due to military, economic, domestic, and international factors.
However, Dr. Takahara mentioned that there is still a note of dissonance in bilateral relations, with Chinese media continuing its criticism of Prime Minister Abe. He gave examples of reporting on Prime Minister Abe's visit to the USA in April and his statement in August on the 70th anniversary of the end of World War II, and also mentioned Chinese Foreign Minister Wang Yi's comments in June about taking a tough stance towards Japan.
Despite this dissonance, overall Japan-China relations are improving, due to the four points mentioned earlier being unchanged. Both countries are continuing to look for opportunities for a summit, and Dr. Takahara mentioned that it was likely a trilateral summit between Japan, China and South Korea would be held at the end of October.
On the other hand, he mentioned that close attention should be paid to how Chinese domestic factors would change, and what kind of effect increased economic slowdown would have on Chinese politics, social stability, and diplomacy.
Dr. Takahara also pointed out that there is a fundamental issue in attempting to simultaneous carry out peaceful development and nationalism, which provide legitimacy to the Communist Party's rule of China, and he concluded by saying "President Xi Jinping's power and authority should be stable for the time being. The policy to improve relations with Japan should also remain in place, and it can be concluded that Japan-China relations are ready to develop."
Journalists asked questions about the chemical storage site explosion in Tianjin and the effects of the Chinese economic slowdown, Dr. Takahara's view of the USA-China summit that was planned for after the briefing, and the effect of the passing of the security bills on Japan-China relations.
[Briefer]
Dr. Akio Takahara, a professor at the University of Tokyo Faculty of Law and Graduate Schools for Law and Politics
[Note]
If you have published an article, photo, or a program based on our press briefing report, please provide us with the (1) title of article(s) or product(s), (2) author's name, (3) published/broadcast date of your report, and (4) a copy of or a link to your report (if available) via email ( cp[at]fpcjpn.or.jp ).
*Please replace "at" with "@" when you send the Email.