Date : November 17, 2011
Report (Press Briefing): Japanese Politics in the Eyes of Kumamoto's Governor (November 17, 2011)
post date : 2013.08.21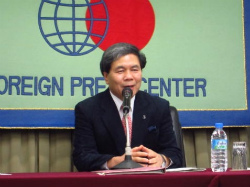 FPCJ invited Dr. Ikuo Kabashima, Governor of Kumamoto Prefecture, to talk under the theme, "Japanese politics in the Eyes of Kumamoto's Governor." Governor Kabashima served as a political science professor at the University of Tokyo until he took office as governor in 2008. In the briefing, based on his experiences as both political scientist and governor, he dealt with various topics including postwar LDP politics, the change of administration to DPJ, the incumbent Noda administration, and local politics. 
To explain why the LDP politics stayed in power so long in postwar Japan, Mr. Kabashima said, "Supported by economic 'have-nots' in rural areas, the LDP could secure political stability and consistency in policies. Thanks to the benefit of social and economic development redistributed to rural areas, little disparity was caused between town and country." As reasons for the weakening of the LDP from the 1990s, he listed 1) population decline in rural areas, 2) dull economic development and 3) depletion of wealth/resources for redistribution. 
Referring to the DPJ that had taken power from the LDP, Mr. Kabashima said that he could point out three tendencies exhibited when a perennial opposition party came to power as follows: 1) to promise the moon, 2) to adopt a different political methodology from the previous administration, and 3) to show a lack of experience. He then picked up the issue of the Futenma airbase under the Hatoyama administration as a typical example of tendency 1), which he called "politics of expectation and disappointment." Commenting on the Noda administration, Mr. Kabashima said, "Within six months after its inauguration, this administration was required to tackle, as a matter of urgency, Japan's development through recovery and reconstruction from the Great East Japan Earthquake, which is an agreed national issue. It seems, however, that the Japanese people feel the reconstruction isn't going smoothly because the administration is busy dealing with the TPP issue."
Mr. Kabashima pointed out that (because of such unsuccessful national politics) local politics was receiving attention. He gave an explanation about the recent rise of local politics, referring to the political approach taken by Mr. Toru Hashimoto, former Governor of Osaka Prefecture. Mr. Kabashima then said about the future goals of his prefecture, "In April next year, Kumamoto City will become the third ordinance-designated city in Kyushu. When the new regional system, Doshu-sei, is introduced, I wish to make the city the capital of Kyushu," and "I want to make the new Kyushu state a place with such characteristics as 1) being politically innovative, 2) achieving both social welfare and growth, 3) being political trustworthy and 4) beloved by all the world.
At last, as a political scientist-turned-real politician, he said that 1) even when facing various pressures, a politician needs to maintain psychological freedom, 2) politics starts as early as an election, and 3) no politician can handle the politics alone.