The Corona Shock and Emergency Economic Measures
post date : 2020.04.10
The Corona Shock and Emergency Economic Measures
April 10, 2020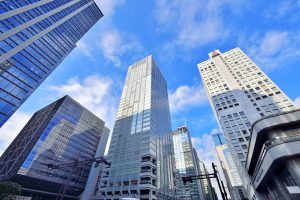 With the spread of the novel coronavirus causing COVID-19, Prime Minister Shinzo Abe declared a state of emergency on April 7, 2020. This state of emergency will be in effect for one month, until May 6, and applies to the seven prefectures of Tokyo, Chiba, Kanagawa, Saitama, Osaka, Hyogo, and Fukuoka. Stating that if infections continued at the current rate, over 80,000 people would be infected after one month, the prime minister asked for the public's cooperation, saying that interpersonal contact would have to be reduced by 70 to 80% in order to move past the state of emergency within one month.
In an extraordinary Cabinet meeting on the same day, the government approved 108 trillion yen of emergency economic measures. The measures taken after the 2008 global financial crisis, in April 2009, amounted to approximately 57 trillion yen. At nearly twice that size, "among the largest economic measures in the world," according to Prime Minister Abe, "Both the global and Japanese economy are facing their greatest crisis since World War II," and various measures have been created to support both individuals and businesses, in an "emergency support phase" until the spread of the infection can be contained, and a "V-shaped recovery phase" after the infection has been contained.
The main highlight of these measures is over 6 trillion yen for cash handouts. As a support measure for struggling households, 300,000 yen will be provided per household for low-income households whose income has declined, as well as increasing the childcare allowance by an additional 10,000 yen per month for each child. For SMEs with a significant decline in sales, up to two million yen will be provided, and for freelancers and private businesses up to one million yen will be provided. To help business owners with financing, a total of 45 trillion yen in interest-free loans will be provided by government financial institutions. In addition to reducing property taxes, consumption tax payments and social insurance premiums can be deferred for up to one year without overdue charges. As a measure to maintain employment, Employment Adjustment Grants will be increased to their highest level ever. The package also includes support for manufacturing artificial ventilators and masks, stockpiling the influenza drug Avigan, and measures to increase consumption in the tourism, transportation, and restaurant industries.
Pundits' opinions on these emergency economic measures, which ran in the Japanese media on April 8, are introduced below. In an interview in the April 8 edition of the Sankei Shimbun, Mr. Mitsumaru Kumagai, chief economist at the Daiwa Institute of Research, suggested that since the state of emergency declaration has no enforcement mechanism and people have already been asked to avoid going outside, there would not be any additional economic impact from it, and provided his analysis that part of the goal was as an announcement to ensure everyone shared a sense of crisis. He argued for three stages of economic measures: protecting employment and providing assistance to the public (stage 1); encouraging consumption by distributing vouchers and coupons and carrying out campaigns to promote domestic tourism and stimulate regional economies (stage 2); and as proactive measures, promoting the establishment of a "remote society" including working from home, online checkups, and online classes, and encouraging businesses to be flexible to prepare for drastic changes to the industrial structure (stage 3).
In an interview in Mainichi Shimbun, Mr. Yasuhide Yajima, chief economist at NLI Research Institute, approved of the package including cash handouts for struggling households and SMEs, calling it "the minimum measure to stop bleeding," but criticized the lack of speed. Although the decision on the measures was made eleven days after the 2020 budget was approved, which is faster than usual, he noted concern that the situation is worsening at an even faster pace. He also noted that some SMEs and other businesses were on the verge of collapse, and may or may not survive with these measures, so a second or third package should be discussed without hesitation. The Mainichi also introduced a comment by Mr. Koya Miyamae, senior chief economist at SMBC Nikko Securities. He highly approved of the package including measures to deal with the immediate economic contraction, such as assistance for decreased income and support for companies' financing, noting that it had the proper direction and, at around 20% of the GDP, made an impact. However, he warned that if the spread of the infection continued, then it would be necessary to extend and expand fiscal measures such as cash handouts to households and companies,  which could lead to a fundamental breakdown of fiscal discipline.
In an interview with Jiji Press, Mr. Shinichiro Kobayashi, senior researcher at Mitsubishi UFJ Research and Consulting, predicted that due to the impact of COVID-19 on the Japanese economy, the real GDP for January to March this year would decline by 4.4% compared to the same quarter last year. While mentioning the risk of unemployment increasing mainly among non-fulltime employees, he stated that the scale of these economic measures were sufficient, but how to rapidly proceed with helping businesses and individuals including freelancers who were dealt a heavy blow by this situation was an issue that remained.
< Information for Reference >
Since before the announcement of the emergency economic measures, many Japanese think tanks were releasing their opinions on the impact of the Corona Shock on the Japanese economy and proposals on what measures should be taken. Below are some examples.
■ The Canon Institute for Global Studies
[Policy Proposal] Policies appropriate for the Japanese economy hit by COVID-19 (March 26, 2020)
https://www.canon-igs.org/en/column/macroeconomics/20200326_6314.html
■ Daiwa Institute of Research
<Special Report> The Corona Shock and the Global Economy (Economic Predictions)
How to Fight the Novel Coronavirus? (April 3, 2020)
https://www.dir.co.jp/report/research/economics/outlook/20200403_021439.pdf (Japanese only)


■ The Tokyo Foundation for Policy Research
Addressing the Economic Fallout from the Coronavirus Crisis: Emergency Proposals by Economists in Japan (March 18, 2020)
https://www.tkfd.or.jp/en/research/detail.php?id=728
■ NLI Research Institute
State of Emergency Declaration and Economic Measures—Can Policy Catch Up to This Unanticipated Speed? (April 7, 2020)
https://www.nli-research.co.jp/report/detail/id=64192?site=nli (Japanese only)

■Japan Center for Economic Research
Priority should be given to fighting the virus, not stimulating the economy (April 2, 2020)
https://www.jcer.or.jp/english/urgent-policy-proposals
Short-term predictions for after state of emergency declaration: The state of emergency declaration will cause four to six trillion yen of economic damage to Osaka City in one month—Dynamic income compensation required (April 3, 2020)
https://www.jcer.or.jp/policy-proposals/2020043.html (Japanese only)


Video series: What will become of the global economy and Japan?
We will not turn the corona crisis into a depression: GDP lack of demand could be up to 50 trillion yen (March 31, 2020)
Presenter: Mr. Kazumasa Iwata, President, Japan Center for Economic Research
https://www.jcer.or.jp/policy-proposals/20200331.html (Japanese only)


■ Nomura Research Institute Dream Up the Future Center
[Emergency Proposal] The Impact of the Novel Coronavirus on the Japanese Economy and Employment (March 24, 2020)
https://www.nri.com/jp/keyword/proposal/20200324 (Japanese only)