[Akita Prefecture] About Akita Museum of Art
post date : 2022.12.20
○Art Museum Outline
       Akita Museum of Art was opened in 1967 in the Senshu Meitoku area of Akita City. It was moved to Nakadori in Akita City in 2013. The designated manager of the art museum is the HIRANO Masakichi Art Foundation, which is in possession of the HIRANO Masakichi Collection. From this collection, there is a permanent exhibition of FOUJITA Tsuguharu works from the 1930s, starting with the large mural, Events of Akita. There are also various planned and special exhibitions being organized. Furthermore, in order to support the creative activities of prefectural residents, loan galleries are also established.
○FOUJITA Tsuguharu's large mural, Events of Akita
      In the 1930s, a wealthy individual of Akita City, HIRANO Masakichi (1895-1989), deepened his communication with a painter, FOUJITA Tsuguharu, who had gained fame in Paris before returning to Japan. They created a plan to jointly establish an art museum in Akita. FOUJITA imagined exhibitions for the art museum and handed over several of his own works to HIRANO. Alongside this, he also decided to create a mural with a theme of representing all of Akita. With a height of 3.65 meters and a width of 20.5 meters, it is quite a large mural. FOUJITA painted it at an incredible speed over 15 days on the HIRANO family rice storehouse, and it was completed in March of 1937.
○Architecture by ANDO Tadao
      Akita Museum of Art is located in the heart of Akita City, in the urban area that faces Senshu Park. It was established under the concept of creating an art museum with charms that can only exist due to its unique location. Furthermore, in a call back to the characteristic shape of the roof of the former art museum, which was beloved as a town symbol for a long time, there are many triangle motifs used in the building design. The architect is ANDO Tadao, who has been highly appraised both within and outside the country, and who has won numerous awards, including the Pritzker Architecture Prize, and the Order of Culture. Natural light shines in through the triangle shaped ceiling, and the floor is made of natural granite. The entrance hall is formed with a spiral staircase unsupported by walls or pillars. There is also a lounge where you can enjoy a panoramic view of Senshu Park's beautiful scenery across the water garden. These and other features allow you to enjoy a landscape of changing expressions according to the time of day, the seasons, and so on.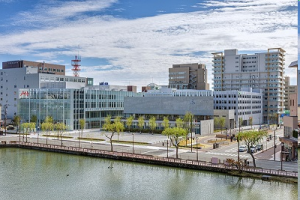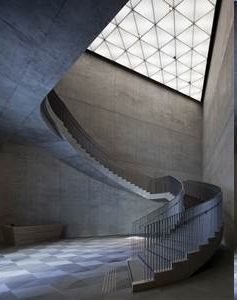 Exterior view                            Entrance
○Contact Information 
 To contact the museum, please use the contact form on the art museum's public website at the following address.
 https://www.akita-museum-of-art.jp/otoiawase/index.php