Date : December 2, 2022
2022 2nd FPCJ International Webinar: GX, the Key to Achieving Net Zero by 2050 and Sustainable Growth
post date : 2022.11.04
Movements towards a carbon-free society are accelerating. Viewing the global trend towards achieving net zero emissions by 2050 as an opportunity for economic growth, green transformation (GX) will be important in order to simultaneously reduce greenhouse gas emissions and grow the economy, such as by reforming social structures through shifting to green energy.
In the growth strategy of Prime Minister Fumio Kishida's "new capitalism," Japan has also indicated intentions to implement GX in order to transform the issue of decarbonization into an "engine for growth."
Foreign correspondents in Japan have been reporting to the world news from Japan about Japanese energy policies since the Fukushima Daiichi nuclear accident, and research and development on new energy technologies such as those using hydrogen and ammonia.
In this webinar, after a live keynote speech from Paris by the executive director of the International Energy Agency (IEA), a panel with members from the Japanese government, the business community, a non-state actor, and the foreign media will discuss Japanese initiatives for net zero emissions from a global perspective (MC/Moderator: FPCJ President Kazuo Kodama).
Don't miss an insightful discussion on how Japan is approaching this global issue, how the world views those efforts, and what the world would like to see from Japan. You will also be able to actively participate in the discussion through a Q&A session.
FPCJ International Webinars
The FPCJ is planning a series of three international webinars for this fiscal year, with the goal of representing the FPCJ's activities in acting as a bridge between Japan and members of the foreign media. This is the second of these webinars.
Through these webinars, we will create opportunities to hear the perspectives of foreign correspondents who are active in reporting on Japan, and discuss how Japan is seen in the world.
Webinar Structure
Guest Interview (Nov. 15 Updated)
The executive director of the IEA, which is involved in the world's energy shift, will speak about issues for Japan and the international community in order to achieve net zero emissions by 2050 and sustainable growth through GX, as well as what role Japan should play and what hopes are being place on the country.
Part 1: Presentation
The five panelists will make presentations on GX in Japan based on their different positions to highlight Japan's initiatives, the challenges it faces, and how the world is watching.
Part 2: Panel Discussion
The panelists will carry out a lively debate based on the points brought up in Part 1.
After the end of Part 2, there will be time for a Q&A session between the panelists and the audience.

Webinar Details
1. Time and Date
16:00-18:00, Friday, December 2, 2022 (JST)
*Venue opening time:
In person: 15:30, Online: 15:45

2. Format
Will be held in a hybrid format, online and in person (registration in advance is required)
◆Venue: Japan National Press Club Press Conference Room, 9F, Nippon Press Center Building, 2-2-1 Uchisaiwaicho, Chiyoda-ku, Tokyo
(If there are more than 40 applications to participate in person, participants will be chosen at random)

◆Online: Zoom Webinar
3. Languages
Japanese/English (simultaneous interpretation)
*Note: Each panelist will use either English or Japanese, and there will be simultaneous interpretation into the other language. For those who participate online, in order to use the simultaneous interpretation function it is necessary to install the Zoom application in advance (you can join the webinar from a web browser, but it will not be possible to use the interpretation function.)
4. Support
Ministry of Foreign Affairs, Keidanren
5. Cost
Free of charge
6. Program and Panelists (Nov. 15 Updated)
| | | | |
| --- | --- | --- | --- |
| 16:00 | Opening |   | Mr. Kazuo Kodama (FPCJ President: MC/Moderator) |
| 16:05-16:40 | Part 1 |  35 min. | Presentation |
| 16:40-16:50 | Guest interview | 25 min. | Dr. Fatih Birol (IEA Executive Director) |
| 16:50-17:35 | Part 2 | 45 min. |  Panel discussion |
| 17:35-17:55 | Q&A | 20 min. |   |
| 17:55-18:00 | Closing | 5 min. |   |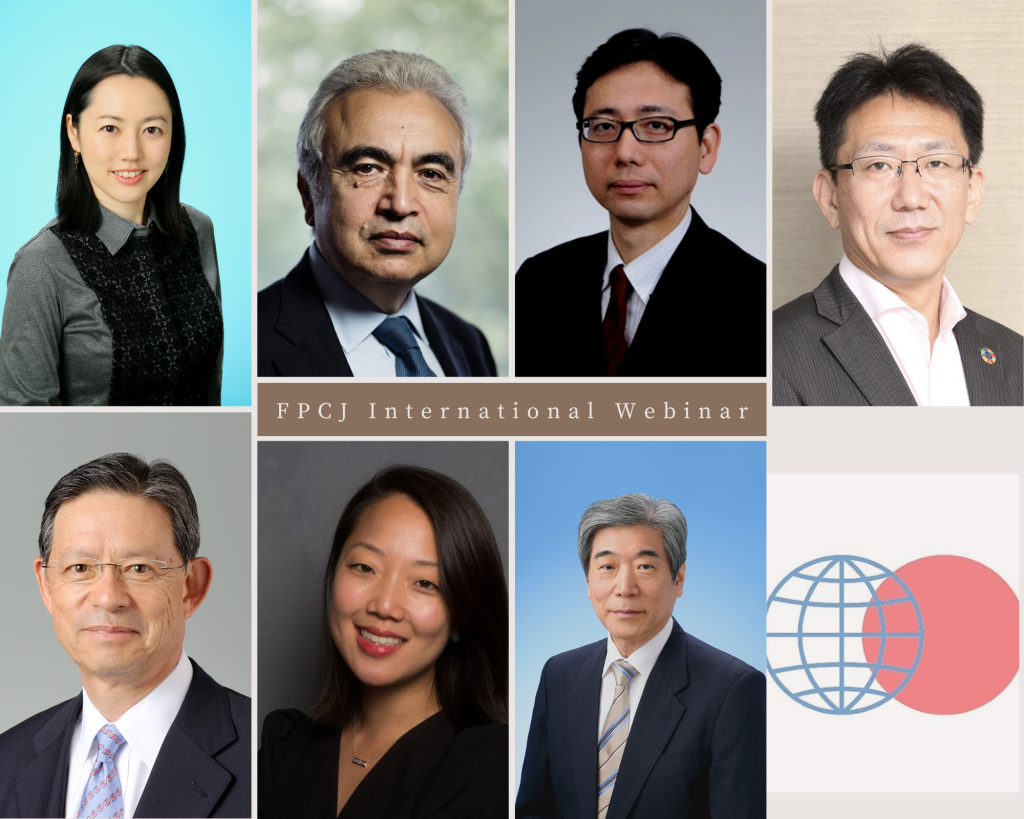 ◆Guest (Nov. 15 Updated)
Dr. Fatih Birol, International Energy Agency (IEA) Executive Director (online from Paris)
Dr. Fatih Birol is the IEA Executive Director and is currently leading the Agency in a major modernisation programme. These efforts focus on "opening the doors" of the IEA to major emerging economies; making the IEA the global hub for clean energy transitions; and broadening the IEA's energy security mandate. He has just been named in TIME's annual list of the world's 100 most influential people and has also received the Japanese Emperor's Order of the Rising Sun.
◆Panelists 
Mr. Noriyuki Shikata, Cabinet Secretary for Public Affairs at the Prime Minister's Office (in person)
In current position since 2021. Joined the Ministry of Foreign Affairs in 1986, where he held positions including Status of U.S. Forces Agreement Division Director, International Press Division Assistant Press Secretary/Director, Second North America Division Director, Economic Treaties Division Director, Minister of the Embassy of Japan in the UK, Asian and Oceanian Affairs Bureau Deputy Director General, and Economic Affairs Bureau Assistant Minister/Director-General.
Mr. Masami Hasegawa, Director of Keidanren Environment & Energy Bureau (in person)
Joined Keidanren in 1992. For 10 years starting in 2007, in charge of issues such as climate change, energy problems earthquakes, and creating a cyclical society. In current position since 2020. Author of the Towards Green Transformation (GX) proposal made to the government in May of this year.
Mr. Takejiro Sueyoshi, Special Advisor to the United Nations Environment Programme Finance Initiative (in person)
Chairperson of WWF Japan, Vice-Chair of the Executive Board of the Renewable Energy Institute. Representative of the Japan Climate Initiative, which has over 700 member non-state actors within Japan.
Ms. Kana Inagaki, Financial Times Tokyo Bureau Chief (in person)
Joined the FT in 2014. Covered Japanese business and technology as a Tokyo correspondent, Tokyo bureau chief since September 2021. As the FT's first Asian woman bureau chief, covers a variety of topics including the Japanese economy, politics, and foreign affairs. Previously worked at the Associated Press, Kyodo News, and the Wall Street Journal.
Ms. Michelle Ye Hee Lee, The Washington Post Tokyo Bureau Chief (online)
Joined the WP in 2014, covering US politics and working as a member of the WP's Fact Checker team. Tokyo bureau chief since July 2021. Born in Korea and raised in Guam, she covers both Japan and the Korean Peninsula. Serving her second term as the president of the Asian American Journalists Association, founded in 1981.
◆MC/Moderator
Mr. Kazuo Kodama, FPCJ President
Joined the Ministry of Foreign Affairs in 1976. After serving in roles including Press Secretary and Ambassador Extraordinary and Plenipotentiary of Japan to the European Union, he left the ministry in September 2020, and joined the FPCJ in November of the same year.
*Time, panelist information, and other program details may change without notice.
7. How to Apply
Apply using the URL below (for both in person and online)
https://us02web.zoom.us/webinar/register/WN_WG0Y7HMUSxanBal5V9Lq2A
* Immediately after applying, a confirmation email with a link to join the webinar will automatically be sent from no-reply@zoom.us. If you do not receive the email, first check to see if it is in your spam or trash folders. If you cannot find it, contact us using the information below.
Contact Information
Foreign Press Center Japan
Strategic Communications: Ayako Sato (Ms.), Rin Hamada (Ms.)
sc@fpcjpn.or.jp | +81 (0)3-3501-5251