Date : June 24, 2022
2022 1st FPCJ International Webinar: Harbinger State: Can Japan Be a Model for the World?
post date : 2022.06.03
Foreign Press Center Japan (FPCJ) and the OECD (Organisation for Economic Co-operation and Development) Tokyo Centre will be jointly holding an international webinar. After a keynote speech by an OECD Deputy Secretary-General, a panel of leading journalists from the UK, the US, and Japan will discuss how Japan is currently facing issues ahead of other countries, and working to solve them.
<From an "Unusual Country" to a "Harbinger State": Can Japan Contribute to Solving Global Issues?>
In the late Showa era (1970s and 1980s), global media would run stories about "Japan as Number One" or "The Unusual Country of Japan," then in the Heisei era (1989-2019) stories would be about "Long-term Stagnation in Japan" or "The Lost Three Decades." With the beginning of the Reiwa era (2019-), the world's perception of Japan is changing.
At a 2021 symposium held at Harvard University, Dr. Phillip Lipscy (University of Toronto: Department of Political Science Associate Professor, Director of the Centre for the Study of Global Japan; University of Tokyo: Graduate Schools for Law and Politics Professor) stated that "Japan is often one step ahead of other countries in confronting important political and economic transformations," and suggested Japan was a "harbinger state" which was dealing with issues of an aging population and economic stagnation ahead of the rest of the world. The Financial Times and The Economist have also argued that many of the issues Japan is already facing are shared global issues, and so other countries should learn from both its successes and its failures.
Can the Various Initiatives Being Implemented by Japan Serve as Examples for Other Countries? By having experienced journalists who have been active on the international stage for years take a frank look at the reality of Japan, the framework for a "Reiwa theory of Japan" can be developed. We look forward to your participation.
FPCJ International Webinars
Three international webinars are planned for this fiscal year, with the goal of these webinars representing the FPCJ's activities in acting as a bridge between Japan and members of the foreign media. Through these webinars, we will create opportunities to hear the perspectives of foreign correspondents who are active in reporting on Japan, and discuss how Japan is seen in the world.
Webinar Structure
Keynote Speech
With the world's media watching, what must Japan do to overcome the issues it is facing? Deputy Secretary-General Yoshiki Takeuchi will make the keynote speech as a representative of the OECD, an organization which has analyzed and made proposals for the Japanese economy for years.
Session 1: From a "Unusual Country" to a "Harbinger State"
With the participation of four panelists, this session will discuss "Japan as a harbinger state," covering topics such as what policies Japan should prioritize in order to escape from the long-term stagnation it is facing due to changing demographics.
Session 2: Democratic Political Issues in a Harbinger State
In this session, the panelists will discuss what measures they hope to see Japanese politicians take in order to overcome the challenges which were brought up in Session 1.
Webinar Details
1. Time and Date
15:00-17:00, Friday, June 24, 2022 (JST)
2. Format
This webinar will be held using the Zoom videoconferencing platform.
3. Languages
Japanese/English (simultaneous interpretation)
*Note: Each panelist will use either English or Japanese, and there will be simultaneous interpretation into the other language. To use the simultaneous interpretation function, it is necessary to install the Zoom application in advance (you can join the webinar from a web browser, but it will not be possible to use the interpretation function.)
4. Joint Sponsor
OECD (Organisation for Economic Co-operation and Development) Tokyo Centre
5. Cost
Free of charge (registration in advance is required)
6. Program and Panelists
| | | | |
| --- | --- | --- | --- |
| 15:00 | Opening |   | Mr. Kazuo Kodama (FPCJ President) |
| 15:05-15:15 | Keynote Speech |   | Mr. Yoshiki Takeuchi (OECD Deputy Secretary-General) |
| 15:15-15:55 | Session 1 |   |   |
| 15:55-16:25 | Session 2 |   |   |
| 16:25-16:45 | Q&A | (20 min.) |   |
| 16:45-16:55 | Closing | (10 min.) |   |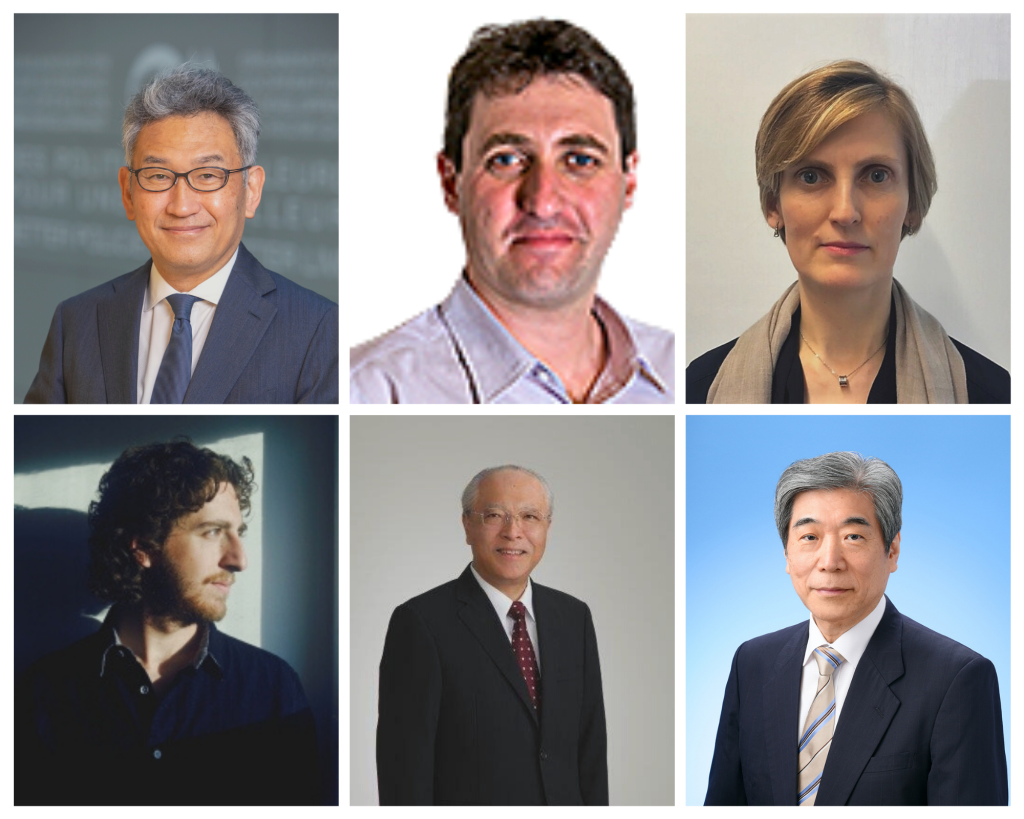 ◆Keynote Speech
Mr. Yoshiki Takeuchi, OECD Deputy Secretary-General
Mr. Yoshiki Takeuchi was appointed Deputy Secretary-General in November 2021. His portfolio includes the strategic direction of the OECD policy on Tax, Financial and Enterprise Affairs along with the Centre for Entrepreneurship, SMEs, Regions and Cities. He also guides OECD work with the Asia-Pacific region. Prior to joining the OECD, he served at Japan's Ministry of Finance as Director General of the International Bureau, Vice-Minister for International Affairs and Special Advisor to Japan's Minister of Finance.
◆Panelists 
Mr. Leo Lewis, Financial Times, Asia Business Editor
FT Asia Business Editor since 2020. Previously worked as a Tokyo correspondent, covering Japanese industry, financial markets, investment, and banks. Became the Beijing Bureau Chief for The Times (UK) in 2010, and covered China for approximately 5 years.
Ms. Isabel Reynolds, Bloomberg, Political Reporter
Tokyo correspondent since 2012. Mainly covers Japanese politics and foreign policy. Previously worked as a reporter at Reuters. Has lived in Japan for over 20 years.
Mr. Noah Sneider, The Economist, Tokyo Bureau Chief
The Economist's Tokyo Bureau Chief since 2020, covering Japanese politics, business, society and culture. Prior to this he was a Moscow correspondent. Before joining The Economist, he reported for a range of publications, including The New York Times and The New Republic.
Mr. Tadakazu Kimura, International University of Health and Welfare Council and Specially Appointed Professor
Former president of Asahi Shimbun (2012-2015). Worked for years as a political reporter. Ample overseas experience, having worked in the American General Bureau and as the European General Bureau Chief. Member of FPCJ Board of Directors.
◆MC/Moderator
Mr. Kazuo Kodama, FPCJ President
Joined the Ministry of Foreign Affairs in 1976. After serving in roles including Press Secretary and Ambassador Extraordinary and Plenipotentiary of Japan to the European Union, he left the ministry in September 2020, and joined the FPCJ in November of the same year.
*Time, panelist information, and other program details may change without notice.
7. How to Apply
Apply using the URL below (500 spots available; first-come, first-served.)
https://us02web.zoom.us/webinar/register/WN_klyK5QFeTkq_YNw2ffzvBA
Immediately after applying, a confirmation email with a link to join the webinar will automatically be sent from no-reply@zoom.us.
*If you do not receive the confirmation email, first check to see if it is in your spam or trash folders. If you cannot find it, contact us using the information below.
*If you would like to join the webinar but are not on the FPCJ mailing list, contact us using the information below.

Contact Information
Foreign Press Center Japan
Strategic Communications: Ayako Sato (Ms.), Mayuko Fukasawa (Ms.)
sc@fpcjpn.or.jp | +81 (0)3-3501-5251