FPCJ presents What's Up Japan, a Site with Olympics and Paralympics News
post date : 2020.03.03
On September 12, 2019, Foreign Press Center Japan (FPCJ) opened What's Up Japan, a new site with news related to the 2020 Tokyo Olympics and Paralympics.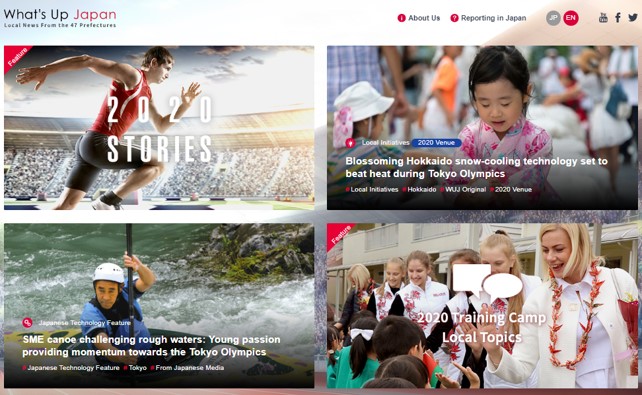 The Olympics and Paralympics are an opportunity for international attention for areas throughout Japan.
With many members of the foreign press planning to come to report on the Games, they are seeking a variety of information about event venues, areas hosting camps, and relations between their countries and Japan.
By hosting information coming from close to these communities on What's Up Japan, the FPCJ would like to increase the foreign media's interest in different regions around Japan, creating new reporting opportunities and contributing to information being distributed worldwide.
Local news and press releases from Japan's 47 prefectures!
Find the latest reporting opportunities, events and local news related to the Olympics and Paralympics in articles contributed by local governments acting as competition venues, training camps, and host towns.
A list of articles can be seen at #From Local Governments
*For Local Government Offices: See here for how to contribute an article (in Japanese.)
Articles on the Olympics and Paralympics by Japanese media, translated to English!
Articles on Olympic and Paralympic-related topics are carefully selected from Japanese newspapers, and translated to English. Learn about little-known local initiatives by communities and small businesses throughout Japan.
A list of articles can be seen with #From Japanese Media
Original articles to help with your reporting!
Original articles by the FPCJ, sure to catch the interest of the foreign press. With unique initiatives by areas hosting competitions taking advantage of local features, and preparations for the Games using the latest technology, these stories will make you want to go and see for yourself.
A list of articles can be seen with #WUJ Original