Changing Nebuta Festival—Young Nebuta Masters, Energetic Hanetos (August 16, 2013)
post date : 2013.08.16
【Watch Japan Now vol.42/FPCJ】
August 16, 2013
Changing Nebuta Festival---Young Nebuta Masters, Energetic Hanetos 
The Nebuta Festival, one of the three great festivals in the Tohoku region, makes the summer nights of Aomori colorful. Recently young Nebuta float masters have made a debut one after another, breathing a new spirit into the festival.
Nebuta makes the town colorful (August 3, 2013)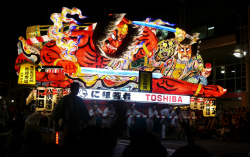 During the festival in early August, about 20 floats, each about 9 meters wide and about 5 meters tall, boost the festival mood together with Haneto, or citizens dancing in costumes.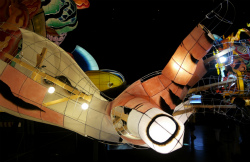 Those who build Nebuta floats spend as long as one year, from selecting a subject to completing a float, are craftsmen called "nebuta-shi (Nebuta masters)." They make a frame with squared logs, add the details with wire, and then install electricity generators and cover the float with Japanese paper. The float can be made three-dimensional by the effect of sumi (black ink), wax and pigments and then put on a carriage: the completion of a Nebuta float. 
Inside the Nebuta (Warasse Nebuta Museum)
In Aomori City there are 15 Nebuta masters centering on veterans on their 60s. Recently young Nebuta masters in their 30s made a debut: Mr. Shunichi Kitamura in 2011 and Ms. Asako Kitamura
in 2012. This year, Mr. Ryuhou Tatsuta joined the two, creating his first float. He has achieved his dream of becoming a Nebuta master after quitting his job as a high school teacher.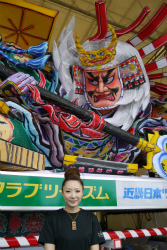 Ms. Asako Kitamura gained people's attention as the first woman Nebuta master and her work won the award for excellent Nebuta last year. "I don't want to be beaten by other masters in my generation. My senior masters are far ahead of me, but I will catch up with them someday," says Ms. Kitamura showing her fighting spirit.
Simply taking over something old is not tradition. "It is important to master the basic techniques that you learn from your teacher and take them over, and then add something that fits the times. I am still at the basic stage, but I want to add something of my own," says Ms. Kitamura.
Ms. Asako Kitamura smiling in front of her Nebuta
After the festival, most of the floats are completely taken apart, partly to remove impurity. There are,
however, Nebuta masters who devote their lives to the festival. Nebuta-building is not necessarily a regular job, but we hear that there are many young people aspiring to be Nebuta masters someday.
Haneto dancers walking through the city with Nebuta floats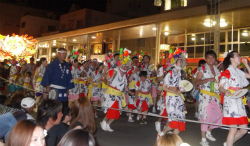 It is said that the Nebuta festival dates back to festivals in which farmers danced and floated paper lanterns in their communities to get rid of drowsiness in the hot summer nights. The festival has been conducted in a wide area mainly in Aomori Prefecture. No later than the latter part of the Edo period (18th century), we can find descriptions of 'Nebuta." As the festival came into being naturally, having nothing to do with a particular religion, trial and error has been made for how to enjoy the festival and what kind of style should be continued. Some citizens lament that they miss the dynamism of the past festivals; they attribute the lack of dynamism to regulations for good manners that were established to prevent the rampage of young people who are called "crow haneto."
Warasse Nebuta Museum opened in 2011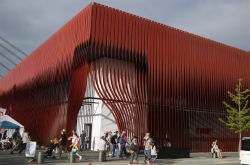 "This year, we have had remarkably more haneto dancers as we used to have. We are very happy and very excited," says Mr. Takashi Yoshioka, Director of the Facility Project of the Warasse Nebuta Museum, an exchange facility for culture and tourism of Aomori City. He analyzes the reason: the media's mentioning of the decreasing number of haneto dancers inspired people and the city's efforts to encourage the participation of high school students have gradually been bearing fruit.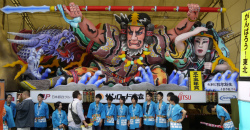 It has been almost two and a half years since the Tohoku region experienced the Great East Japan Earthquake. The number of tourists to the festival drastically came down in 2011 and hasn't got back yet. We heard many voices praying that the festival would promote rehabilitation.
"Birth of Japan" praying for rehabilitation with a motif taken from the Kojiki chronicle
■Official website of Aomori Nebuta
http://www.atca.info/nebuta_en/
■Warasse Nebuta Museum website
http://www.nebuta.or.jp/warasse/
(Copyright 2013 Foreign Press Center/Japan)