[Kobe City] Kobe Wine served at G20 Osaka Summit Leaders' Dinner
post date : 2019.07.04
 Kobe Wine Bénédiction 2016 was served at the G20 Osaka Summit Leaders' Dinner held at Osaka Geihinkan on June 28.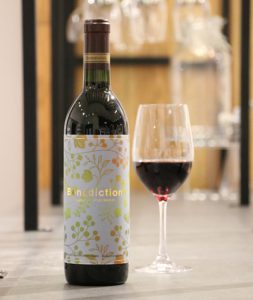 One of the Japanese wines featured at the dinner, this red wine is considered to be the flagship of Kobe Wine. The Bénédiction vintages have won numerous awards at wine competitions, and have received high assessments from many sommeliers and wine magazines.
 Bénédiction uses cabernet sauvignon and merlot grapes grown in Kobe, Japan, selecting the highest quality grapes harvested from the vineyards and fermenting them in small batches. The grapes are meticulously triaged (sorted after harvest to remove blemished or pest-eaten grapes); then the juice is squeezed by hand and allowed to ferment naturally. This wine is fermented using techniques that cause as little stress to the wine as possible. It retains the concentrated and fruity flavors of the grapes and pairs well with the delicate flavors of Japanese cuisine, making it a true Japanese wine.
 Grape vineyards were planted in Kobe more than 30 years ago, and from the very first batch we have ensured that our wines only use locally grown Kobe grapes. As one of our city's distinguished brands, Kobe Wine is worthy of being served to the leaders of the world.
Link to the G20 Osaka Summit Leaders' Dinner Menu:
https://g20.org/en/topics/culture_description.html
1. The red wine served at the G20 Osaka Summit Leaders' Dinner
-Product Name: Kobe Wine Bénédiction 2016
-Price: 720ml, \2,880 (tax incl.)
-Vendors: department stores and supermarkets in Kobe, Kobe Winery, online stores
-Flavor: Semi-dry berry bouquet, with a complex yet pleasant blend of nutty, herby and earthy aromas. The gentle and fruity flavors are well-rounded and spread out in just one sip.
-Grapes: Kobe-grown cabernet sauvignon and merlot
-Region:Nishi and Kita Wards in Kobe, Japan
-Fermentation Method: 1 year in wooden casks, then aged in bottles
2. Other News
Kobe Inji Shinano Riesling served at G20 Live Kitchen
In addition to the world leaders, large crowds of international and media representatives attended various events related to the G20 Osaka Summit, including the Live Kitchen, a "performance kitchen" where visitors could watch cuisine unique to Japan being prepared right in front of their eyes. The menu also featured a number of regional dishes from the Kansai region, such as takoyaki (bite-sized balls of fried octopus) and kushi-katsu (deep-fried meat/vegetables on skewers).
Thirty-six varieties of Japanese wines were featured for sampling at the booth, including the white Kobe Inji Shinano Riesling.
[For Reference] Kobe Winery https://kobewinery.or.jp/