From Tohoku Two Years After the Quake (vol.2): Helping to keep the elderly fit with Red Cross activities (March 6, 2013)
post date : 2013.03.06
*Special series of stories by courtesy of Japanese Red Cross Society and International Federation of Red Cross and Red Crescent Societies
Helping to keep the elderly fit with Red Cross activities (Yoko Kumagai's Story)
By Francis Markus in Ofunato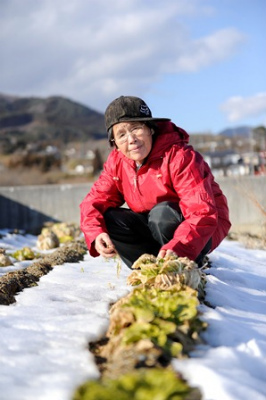 March 11, 2011 should have been a pleasant day for Yoko Kumagai. It was her 67th birthday. Instead, it turned into a nightmare she would rather forget.
"When the tsunami happened, water poured into our house; it soon flooded the lower storey, so we rushed upstairs. Then it rose to there too and because I'm not very tall, I stood on the bed and it came up to my chest there too."
Mrs. Kumagai, and her husband managed to escape. But all that's left of their home is the foundations, where she's able to keep growing a few vegetables.
The normally chatty and humorous petite woman suddenly becomes subdued when she shows visitors the site.
But she's her ebullient self during the regular get-together with neighbours from the prefabricated temporary community where she now lives, to take some exercise and socialise at the same time by doing some Nordic walking.
This activity, originally from Finland, is derived from cross-country skiing and it's organised by the local Japanese Red Cross Society branch, in order to help keep the mainly elderly population from falling into inactivity and isolation.
"I persuade the elderly people to take part by telling them it's good for their health," says Masataka Oota, the Red Cross volunteer Nordic walk leader.
Before the 20 or so participants set off on their walk through the residential streets that make up the upper part of this fishing port, they spend half an hour limbering up.
The warm-up involves all sorts of exercises such as standing on one leg and twirling the other foot around, leaning forward on the two poles which the walkers use to propel themselves forward and bracing the poles behind their backs.
During the actual walk, several Red Cross volunteers accompany the residents on what turns out to be quite an icy journey in places, but thankfully there are no mishaps.
Says Mrs. Kumagai: "When we first moved here, it was hard to get used to the lack of space and it's difficult not being able to have our children and grandchildren come and stay. But we've got used to it now and thanks to activities like this, we've got to know people quickly."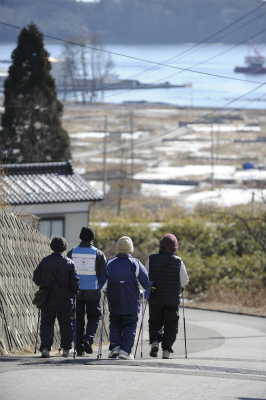 As to how long she and her neighbours will have to stay in temporary housing, nobody has a clear answer.
"At the beginning, people would ask the local government what was happening, but each time they would only reply, 'we're working on it,' so now people here have given up asking.
After the Nordic walk in Ofunato, the Red Cross team heads to the neighbouring port of Rikuzentakata to conduct another session.
While his wife goes out on the walk, 76-year-old retiree Yuuki Kumagai, - no relation to Yoko – shows visitors over green tea and cakes the reconstruction plans which he received from the city authorities when he attended a planning meeting a few months ago.
Pointing to a green splotch on the plan, he explains that this will be the site of the first community of permanent new homes..
"I have seen the earth moving equipment starting to flatten the land, so I believe the site will be ready by the end of 2013 and the first houses should be built by late in 2014."
Even then, they will have to draw lots to see whether they can move into one of the new homes. So for the moment, patient good humour - and trying to lead as sociable and active a life as possible – remains the order of the day for these elderly survivors.
■Contact:
Japanese Red Cross Society
Planning and Public Relations Office
(Ms. Sayaka Matsumoto)
1-1-3 Shiba Daimon, Minato-ku, 
Tokyo 105-8521, Japan
Phone: 03-3437-7071 Fax: 03-3432-5507
E-Mail: s-matsumoto@jrc.or.jp
(Copyright 2013 Japanese Red Cross Society and International Federation of Red Cross and Red Crescent Societies)