New Aspects of Running Boom: Fashion, Travel, and Community-Building (May 1, 2012)
post date : 2012.05.01
【Watch Japan Now vol.24/FPCJ】
May 1, 2012
New Aspects of Running Boom: Fashion, Travel, and Community-Building
The Tokyo Marathon 2012, which was held this February, drew more attention than usual because the "city runner," Mr. Yuki Kawauchi, an official of Saitama Prefecture, ran for a London Olympics berth, and Mr. Katsunobu Sakurai, Mayor of disaster-stricken Minami-Soma City in Fukushima Prefecture, a road relay runner, also participated in this marathon with the slogan "Fukushima never gives up." The Tokyo Marathon has been featured frequently in magazines and TV programs. The reason is that this year's event, "registered more than 280,000 applicants, the lottery rate was about 9.6 times," and "people tried to register through the Internet but the maximum number was reached in no time, just like applications for concert tickets. There were many people who weren't able to run even though they had applied."(*1) There may be many people who saw on TV that some participants enjoyed running in their own special styles including wearing fancy costumes.
According to a Sasakawa Sports Foundation report(*2), the jogging and running population of Japanese adults as of 2010 was estimated at 8.83 million. This was an increase of 2.78 million people over the 6.05 million before the Tokyo Marathon of 2006. Remarkably, triggered by the Tokyo Marathon of 2007 that was open to all volunteers, a different motivation from the past tendency is conspicuous. Running used to have an image of something that was easy to do anytime and anywhere at no cost and good for slimming and health. On top of that, however, in recent years people don't pay much attention to time and distance and the objectives have been diversified; they run for various reasons including being in fashion, making friends, and keeping in shape. We can obtain running information from various media including websites, magazines, word of mouth, and television. Getting attention in the recent few years have been popular woman "talents" and idols running "stylishly" in their own original outfits. The coined term "Bi-jogger" (bi=beauty, stylish young woman runners wearing fashionable running wear. The word was a candidate of the Japan's Keywords-of-the-Year contest for 2011) was also created.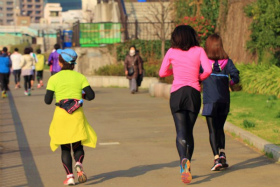 An increase in the numbers of female and city runners urged many sports manufacturers to introduce fashionable and functional products including running shoes and outfits. The running-related market has attracted great expectation as one of the few growing business sectors at a time when domestic consumption is in the doldrums. According to a Yano Research Institute report(*3), "running shoes for intermediate and experienced runners or high-priced ones are popular models," and the domestic running shoes market of 2010 (on a shipment value basis) expanded to about 46.5 billion yen, an 8.4 % increase compared with the previous year. In addition, sweat-proof sunscreen and cosmetics and running accessories for women are also on sale. 
Similar marathon events that aim at an economic ripple effect have been increasing nationwide. Kumamoto City and Kobe City hosted a large-scale citizen participatory-type marathon for the first time last year. In addition, companies, organizations, and mobile phone companies plan running classes and seminars and various events for beginners. They support making communities of "running friends" based on a common interest in running. In urban areas, new facilities called "runners' stations" have been established as running bases, and businessmen use them before or after work. Neighboring hotels and travel companies also plan "traveling and running" tours which combine travel (tourism) and running, and spouse-hunting activities called konkatsu, where single men and women run together. 
Thus, the running boom has developed into a wider business which is not limited to the health and diet fields because companies in other fields including fashion and tourism have entered into the market. Despite the uncertainty about the economic prospects and although many people still enjoy sports without spending money, running seems to be able to attract a wide range of consumer groups and is likely to continue to maintain its popularity in the future.
Reference:
(*1)The Asahi Shimbun (February 23, 2012) 
(*2)Sasakawa Sports Foundation Report (October 29, 2010)
(*3)Yano Research Institute "Sports Shoes Industry 2011" (September 16, 2011)
(Copyright 2012 Foreign Press Center/Japan)