【City of Sapporo】 See, Taste, and Experience Sapporo's Fall Season !
post date : 2016.10.31
【From a Coordinator for International Relations in Sapporo City】
 by Minji
(Daegu, South Korea) 
Sapporo's fall is shorter than that of other regions in Japan and just when I'm wondering when fall will arrive, before you know it, snow has already begun to fall. Precisely because it is this short, it's a season that I want to fully enjoy. Today, I would like to introduce to you some of Sapporo's fall attractions.
Firstly, Sapporo's fall is something that you can enjoy through sight. The leaves start changing colors from around the last half of September and usually the best time to see fall foliage is from the beginning to the middle of October. My recommended spot for autumn viewing is Jozankei. There are probably people who first think of hot springs ("onsen") whenever they hear "Jozankei," but actually there many other activities such as canoeing and horseback riding to complement that. I think that horseback riding in particular is something that friends, families, and companions alike (even first-timers!) can enjoy, as after your lesson you can head out directly for the fields outside.
Next, no matter what anyone says, when your body is worn out from activity, the best way to rest and recover is by going to the hot springs, don't you think? As you relax and enjoy the hot springs, the beautiful autumn leaves you gaze out upon evoke the illusion that you are in a landscape painting.
For about a month from the beginning of September, you can enjoy local, gourmet cuisine specializing in using autumn's unique ingredients at the Sapporo Autumn Fest held in Odori Park, which focuses on gourmet foods which represent Sapporo/Hokkaido.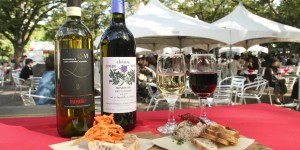 Just one of the attractions of the Autumn Fest is that you can enjoy an array of different atmospheres and dishes as each city block venue has a different theme, such as the 5-chome venue which focuses on ramen that reflects the characteristics of various parts of Hokkaido, the 7-chome venue, at which you can enjoy wine and Japanese Sake, the 10-chome venue which has the theme "meat from Hokkaido," and many others.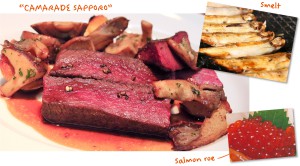 This year's Autumn Fest ended on October 1st, but there still are a lot of delicious foods which celebrate the fall season. In celebrating the season when salmon begin their journey upstream in September, you can enjoy salmon roe ("ikura"), one of the most popular foods among tourists to Sapporo, which is freshly prepared at the market. Additionally, October is the start of the fishing season for "Shishamo" a small, salt-water fish caught only in the coastal areas of the Pacific Ocean near Hokkaido, so you can enjoy the taste of something new and unique. Moreover, fall is the season of Ezo Deer and wild game, as it is when while animals store nutrients for the winter. Isn't that just what you need to fuel your appetite?
So now, wouldn't you like to come see, taste and experience Sapporo's fall season?
■ Contact
City of Sapporo, International Relations Department 
〒060-8611 Sapporo, Kita 1-jo Nishi 2-chome, Chuo-ku   TEL:011-211-2032、FAX:011-218-5168
E-mail:kokusai@city.sapporo.jp