【Akita Prefecture】Would you like to come see Akita dogs in their hometown?
post date : 2016.10.19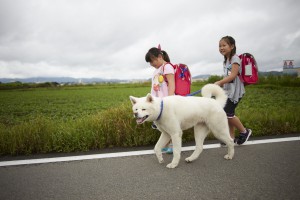 The Akita, some of its characteristics are its triangular standing ears and circularly coiled tails. It is a breed of dog which is so renowned worldwide that even movies have been filmed based on it, but do you know where this breed originally comes from? As stated in its name, these dogs come from Akita, a prefecture located in the northern half of Japan's main island of Honshu.
This autumn, Akita Prefecture is holding various events to get people to know more about the region through the dog, whose hometown is within Akita.
In the Tokyo area we will be holding promotion events themed around Akita Dogs introducing their birthplace of Akita. This November we will also be putting up large posters within Tokyo Metro's Shinjuku Station, then, in January the JR Yamanote Line will feature an Akita Dog train. Prior to that, at Tokyo Skytree Town's Tokyo Solamachi (from 10/22-23) and at JR Shibuya Station's Hachiko Statue Plaza (from 11/5-6), we will be holding events showcasing tourist sites, local food, and Japanese sake from Akita. There will also be a live Akita dog welcoming visitors and helping promote Akita Prefecture.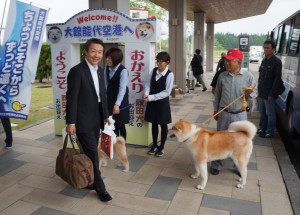 Next, at the Odate-Noshiro Airport, the "gateway to the home of the Akita, Odate", an Akita welcomes passengers of morning flights on dates ending with 8 (8th, 18th, and 28th of every month). This derives from the name "Hachi, the faithful dog", since "hachi" means 8 in Japanese.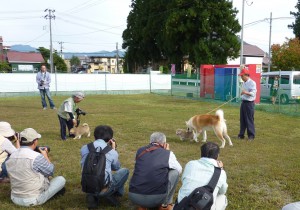 Additionally, there are events organized for dog lovers. In September, we invited a professional photographer to hold the classes on taking pictures of animals. Many dog lovers gathered to this photo session to take a picture of an Akita dog playing in the dog park, which was serving as a model.
Also, the first Akita Dog World Photo Contest, which is being held from 10/1~1/13, is looking for photographs from both local areas and overseas which convey the attractiveness of Akita dogs. Subsequently, from February to March, the prize winning photos will be displayed throughout Akita Prefecture to promote these magnificent dogs.
Even abroad there are many dog lovers enamored with the Akita breed, so it has become important for people to know about its history and inherited traits from its original form. In addition to the Akita Inu Hall, which opened in Odate in 1978, an Akita dog archive (AKA: Hachiko Museum), a dog park, and even a space where you can play with real Akita dogs will be under development until 2018. These efforts work towards furthering the understanding and love of the Akita breed.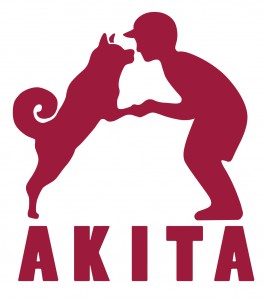 Currently, some of the main areas where you can meet Akita dogs freely within Akita are at places such as the Akita Inu Hall (headquarters of the Akita Inu Preservation Society) and Tazawako Kyoei Palace (a rest shop located beside the shore of Lake Tazawa, Japan's deepest lake, in Semboku). From this, we should soon see an increase of spots where you can see more Akita dogs, including local trains and buses decorated with Akita dog illustrations.
Until now, Akita Prefecture has been represented by rich traditional customs, such as Oga's Namahage, or by its various local foods and dishes such as Kiritampo and Japanese Sake which is made from Akita Komachi rice, an original product of Akita. With these efforts, we hope to get people to associate Akita dogs with Akita Prefecture and vice versa.
("The Akita dog" logo depicts a child and a dog, which are the treasures of Akita, nuzzling up and holding hands with each other, forming the A in Akita.)
■ Reference Sites
-Akita Inu Preservation Society, Public Interest Incorporated Association (Japanese only)
(http://www.akitainu-hozonkai.com/index.html) 
-Akita Prefecture General Information Guide (Akitafan.com)
-Odate-Noshiro Airport Utilization Promotion Council
(http://www.odate-noshiro-airport.com/english/english.html)
-Akita Dog World Photo Contest (English version coming soon)
(http://www.e-midori.co.jp/akita_dog_photo/world_akita_dog_photo.html) 
■ Contact
  -Akita Prefecture, Department of Tourism, Culture and Sports, Tourism Strategy Division
  Tel: 018-860-1462   Fax: 018-860-3879