Akita Prefecture, Governor Norihisa Satake
post date : 2012.05.31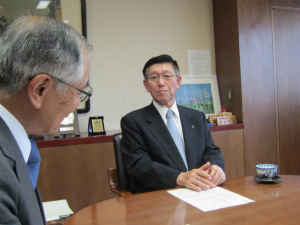 On May 31, Mr. Terusuke Terada, President of the Foreign Press Center/Japan, visited Akita Prefecture to meet with its Governor, Mr. Norihisa Satake, to talk about the prefecture's attractions and external strategy. Their talks covered a variety of topics including moves for further expansion of exchanges with the East Asian region, the potential of renewable energy, and factors for elementary and junior high schools' national top-class academic achievements.
FPCJ President Terada (President): I admire you, Governor Satake, because you yourself are visiting China, Taiwan, the Republic of Korea and Russia as the top salesperson, calling attention to Akita Prefecture's attractions. Would you tell us your ideas and this year's plans in publicizing your prefecture overseas?
Photo(right to left) : Akita Prefectural Governor Satake and FPCJ President Terada
Governor Satake (Governor): Akita Prefecture has wide-ranging local assets and potential: rich nature; high-quality agricultural produce and a variety of food culture; local traditional arts; an accumulation of distinctive skills in the field of manufacturing; elementary and junior-high school students with national top-class academic achievements; and on top of all these, the geographical advantage of being open to East Asia, which shows outstanding progress. These features are not, however, well recognized overseas. First of all, I will have Akita Prefecture recognized by visiting China, Korea, Taiwan and Russia myself to advance our exchange with these countries.
In July this year, I will visit Tianjin to conclude a document for a friendship agreement. In August, I will go to Taiwan to visit its government organizations, airlines and travel agencies. I will propose that they establish wide-ranging tourism routes covering Yamagata Prefecture, the three north Tohoku prefectures of Aomori, Iwate and Akita, and also Hakodate City and Sendai City, and to operate charter flights. In September, I will visit the Yanbian Korean Autonomous Prefecture, Jilin Province, China, which will celebrate the 60th anniversary of its establishment, and in October I will visit Gansu Province, also in China, as part of the 30th anniversary celebrations of friendly relations, to study exchange in a new field such as renewable energy, in addition to our past cultural exchanges. In November, I will also visit Russia's Vladivostok to meet with the new Governor of Primorsky Krai to exchange views on promoting the comprehensive friendly agreement which we concluded in March 2010. In Vladivostok, I will have business meetings with trading companies and also pay a visit to a company related to Japanese automakers which have advanced there, to request further use of the Port of Akita.
President: Would you please spotlight the potential of renewable energy of your prefecture, and also urban mining?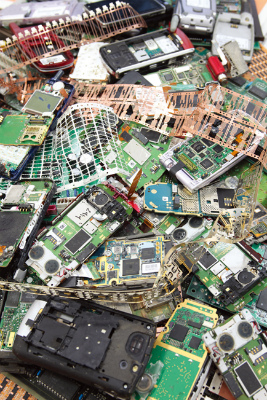 Governor: For Akita Prefecture, which has the potential for a variety of renewable energy forms, increasing momentum toward utilizing a certain amount of natural energy is a good opportunity. Akita Prefecture is suited for introducing renewable energy on a large scale, as its coastal areas are good for offshore wind power generation or large-scale wind power generation because they have strong winds and long shallow beaches, and also as its inland areas have some places good for geothermal electricity generation, and wide areas are available for photovoltaic generation because we get as much sunlight as Tokyo. On top of that, agriculture and forestry are prosperous in Akita Prefecture, providing such rich biomass resources as rice straw or timber from forest thinning, and abundant and varied renewable energy sources.
"Urban Mining" consists of collecting rare metals or rare earth from small household electric appliances and communications devices that are no longer being used.Kosaka Smelting & Refining Co., Ltd. in Kosaka Town collects rare metals and minerals from such urban "mines," using the only recycling furnace in Japan that can be operated even if only recycled products are used. In an age of severe global competition for resources, Akita Prefecture will contribute to Japan's resource-recycling by putting emphasis on this field. Besides that, this prefecture has the advantage of the basis to bring up human resources in the field of resource development or recycling. The International Institute for Mining Technology is visited by overseas trainees every year, and Akita University is planning to establish a department for mineral and energy resources in 2014. I expect that human resources brought up in this prefecture will be doing great jobs in and out of Japan. 
President: You have just touched upon human resources development. Akita Prefectures' elementary and junior-high school students' academic achievements are Japan's top level. Tell me the secret.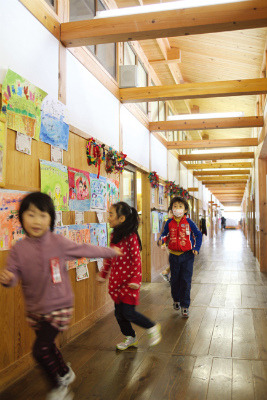 Governor: I always say, "Go to bed early, get up early, and don't forget breakfast!" I think our prefecture has not been excessively urbanized, and our local communities are deeply rooted, so that people have a strong sense of bringing up children in their own communities. Other factors, I presume, can be attributed to reduced class sizes which we have been carrying out for 10-odd years ahead of other prefectures in Japan, and also to efforts of teachers in class.
President: Why don't you tell me about Akita International University, which has been highly evaluated in recent years. What are the aims and future vision?
Governor: "Lectures in which you learn and think everything in English," "Life in a dormitory for a year with students from abroad," and "One year study abroad at a world top-level university." They are some features of this university that was established to bring up internationally-minded persons with strong English ability. In January this year, the East Asian Research Center was established as a think-tank to play a role in Akita's international exchange, trade and tourism. It will bring up active international citizens and conduct research beneficial to Akita's global economic strategy.
 President: Would you tell us your foreign strategy to aim at making Akita Prefecture a base for exchange with northeast Asia and beyond?
Governor: Among the major ports on the Japan Sea, the Port of Akita has a geographical advantage; it is only about 800 km from the ports of Far East Russia. If a trade route via Russia's Far East were to be opened, about 1,500 km could be reduced by sailing from Akita to Heilongjiang Province in northeast China, which has been remarkably developing these days, compared with the conventional route via Dalian. The Port of Akita can be the gateway to Japan for China and Russia, and even open to farther away markets in East Asia. Putting East Asian markets in perspective, we would like to create an industry that has never existed before, combining our know-how on hot springs, foodstuff, medical care and the ageing society. Japan, as a processing trade nation, has exported cars, TVs, PCs, and other products, but has failed to use its own culture for business. Akita Prefecture's external strategy is centering on that point.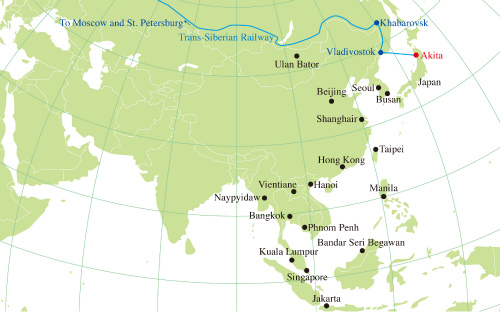 All the photographs and images provided by Akita Prefecture