【Reporting by African Journalists!】Connections Between Japan and Africa: Mayekawa Manufacturing Company
post date : 2016.08.16
Interacting with Local Journalists
while Planning for African Expansion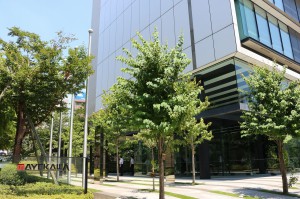 In early July, on a day when Tokyo was sweltering at over 35°C, an uncommon group entered the lobby of Mayekawa Manufacturing Company. As part of a Japan International Cooperation Agency (JICA) program, 15 journalists from newspapers and television stations in 15 African countries were visiting Japan from the end of June through early July.
The goal of the program is to report on Japanese technology that can contribute to development in Africa. Leading up to the 6th Tokyo International Conference on African Development (TICAD VI) to be held in Nairobi this August, the group spent two weeks travelling around Japan. One of the stops on the tour was Mayekawa Manufacturing Company, located in Tokyo's Koto ward.
Established 92 years ago, the company has been making industrial cooling and refrigeration systems for nearly a century. With an overwhelming share of the domestic Japanese market, Mayekawa's first expansion overseas was to Mexico in 1964. Using Mexico as a base, the company then expanded its market share in North and South America, entered the European market using Belgium as a base, and established a machinery and parts warehouse in Dubai in the Middle East, along with a training center to develop the skills of foreign employees. With 60 offices in Japan and 99 offices in 40 countries overseas, they are truly a global company.
The market that Mayekawa is placing the most focus on right now is Africa. Through official development assistance (ODA), the company has provided ice-making equipment and refrigeration systems to Africa around 35 times since the 1990s. With an office in Cape Town, South Africa, the company also sells compressors, a core component for cooling devices. They plan to provide a wider variety of products to African countries in the future, as well as providing support for maintenance as an after-sales service. In particular, Mayekawa is interested in expanding into Kenya, the site of this year's TICAD VI.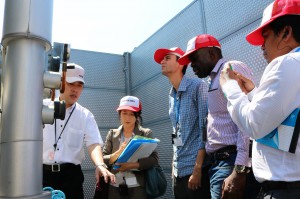 The African journalists listened to a briefing giving an overview of the company, presented by Mr. Naoki Kato of Mayekawa's Global Sales Block, before heading to the roof to see the air-conditioning heat pump on the roof, manufactured by Mayekawa. The air conditioning for the building is all controlled using the company's own original products. This environmentally-friendly system, without any chimneys, piqued the interest of the reporters, who commented that "This would increase the environmental consciousness of workers" and "It is convenient that it can be used year-round."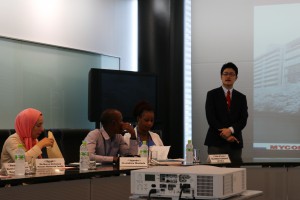 During the intense Q&A session that followed, the journalists asked a number of questions including "Would it help decrease costs if you built factories in Africa," "We would like to see more Japanese companies expand into Africa, what obstacles exist," and "What impact will Brexit have?" In response to these questions, the Mayekawa representative stated that "First we would like to engage in activities that take advantage of Mayekawa's strengths," "We are focusing on Kenya in the east and Nigeria in the west," and "We plan to perform new energy-saving tests in Egypt."
Providing Quality Service
Under the Philosophy of Co-creation
Over the years, employees at Mayekawa have shared a common philosophy: co-creation. In order to provide the services that customers require the most, employees incorporate customer's ideas to create new value. By continuing to carry out this simple method over and over, the company was able to grow into a major global business.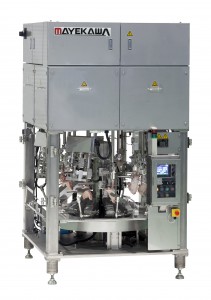 One example of these efforts is the Toridas. Different from the usual Mayekawa brand, it is a robot that automatically cuts chicken leg bones. Using know-how from their main specialty of cooling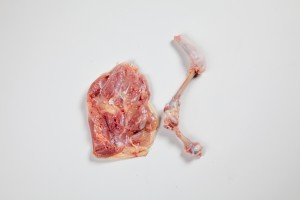 technology, the designer butchered chickens himself at a processing plant in order to carefully program each movement of the robot in detail, finally developing it into a commercial product after 10 years. A thousand units have been sold in 16 countries around the world. This is the result of "co-creation," taking advantage of being a private company in order to invest in long-term technological development. Mayekawa would like to implement this same philosophy in Africa.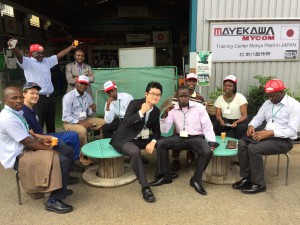 During the summer of 2015, 14 interns were accepted from four African countries as part of the ABE Initiative*, and through them Mayekawa is in the process of building an African network. "It is no easy task, but by making the correct business decisions I would like to demonstrate our presence in Africa as a Japanese company." So says Director Tatsuya Narahara, who handles Mayekawa's business in the Middle East, Africa, and India. In order to participate along with other Japanese companies in JETRO's Japan Fair, which will be held to coincide with TICAD VI next month, Mayekawa staff will be travelling to Kenya. While there, they plan to market the company in Kisumu County, where many fish are caught from the nearby lake.
Through the field of business, new bridges are being built between Japan and Africa.
*This program provides young people from Africa with the opportunity to study at Japanese graduate schools and intern at Japanese companies, in order to cultivate human resources for industry in Africa. The full name of the program is the African Business Education Initiative for the Youth. Over the course of five years, the planned target is 1,000 participants.