[City of Sapporo] Sapporo's Spring Mountain Climbing and Hiking
post date : 2016.04.21
Sapporo is a large city while at the same time surrounded by nature, meaning there are plenty of mountains within relative convenience of the city center. While you can hike the mountains of Sapporo and Hokkaido all year round, my personal favorite climbing season is spring. The first climb after a long winter refreshes the spirit with pristine air. By April and May most of the snow in town has already melted, but that is not so in the mountains. Particularly beautiful is the contrast between the white of snow and green of the budding leaves.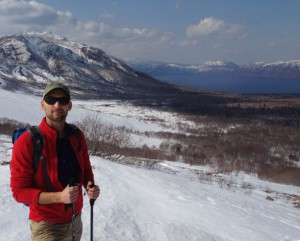 There is no shortage of mountains suitable for beginner hikers in the Sapporo area, meaning even those with little climbing experience can enjoy a hike. However, spring weather is still cold weather and there is always a chance of snow, so it is important to hike in appropriate warm clothing. As you approach the summit the temperature continues to drop and winds tend to pick up so you must take on spring hiking with winter equipment. Snowshoes and crampons can be useful. The end of spring brings about hardened snow which may not go so far as to require snowshoes, but I certainly recommend taking along crampons.
I especially suggest hiking Mt. Moiwa. Trail entrances at the base of Mt. Moiwa can be accessed by bus from throughout the city. It takes about 2 hours to reach the summit from the bottom. From the top you will see a beautiful panoramic view overlooking all of Sapporo – quite a sight.
Other mountains I recommend for beginners are Maruyama and Hakkenzan. For slightly more experienced climbers there are Mt. Teine, Mt. Muine, Mt. Soranuma and Sapporo-dake.
I hope you may come out to Sapporo this Spring and, while being weary of the cold and ice, try out a mountain hike.
(Ulli Jamitzky, Coordinator for International Relations for the City of Sapporo)
<Mt. Moiwa homepage>
http://moiwa.sapporo-dc.co.jp/index.html
◆ Contact
International Relations Section, International Relations Department
General Affairs Bureau, City of Sapporo
Kita 1-jo Nishi 2-chome, Chuo-ku, Sapporo 060-8611
TEL: 011-211-2032, FAX: 011-218-5168
E-mail: kokusai@city.sapporo.jp