【Kawasaki City】Business Opportunities are Waiting at KING SKYFRONT, an Innovation Hub at the Doorway to Japan!
post date : 2016.03.08
KING SKYFRONT—The New Face of Japan
Right across the Tama River from Haneda International Airport, development is steadily continuing at the world-leading innovation hub— KING SKYFRONT. Located in the center of the Keihin Industrial Area, KING SKYFRONT is a brand-new R&D/business hub specializing in those fields from which much growth is expected from here on out, including the health, medical, welfare and environmental science realms.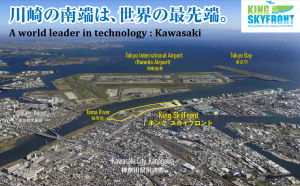 <KING SKYFRONT (Near-Side) and Haneda International Airport (Far-Side)>
★KING SKYFRONT Official Website http://www.king-skyfront.jp/
★Kawasaki SkyFront i-Newsletter
An Introduction to the Researchers at KING SKYFRONT and their Research Results
http://inewsletter-king-skyfront.jp/jp/
A Site Connected to the Greater World ~To Be Directly Connected with Haneda International Airport via Bridge~
In a straight line, KING SKYFRONT is located just 600m from Haneda International Airport's International Terminal ith the 2020 Tokyo Olympic and Paralympic Games in mind, plans have been finalized to build a bridge directly connecting KING SKYFRONT to Haneda International Airport.
An Accumulation of National Institutions and Global Enterprises
By FY 2017, we will have nearly completed gathering the following companies to the area.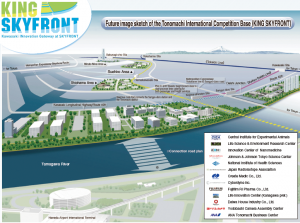 | | |
| --- | --- |
| Name of Organization/Business | Field of Research, etc. |
| Central Institute for Experimental Animals | A research & development facility aiming for the realization of cutting-edge regenerative treatment methods for such ailments as spinal cord injuries and Alzheimer's. |
| Life Science & Environment Research Center (LiSE) | A combined facility occupied both by Kawasaki City's environmental agencies as well as private business enterprises. |
| Johnson & Johnson Tokyo Science Center | A hub both for training in the use of advanced medical equipment and for the spread of advanced medical techniques around Asia. |
| Innovation Center of NanoMedicine (iCONM) | Led by Tokyo University Professor Kazunori Kataoka—an authority on nano-medical techniques—iCONM is a facility where research and development is carried out with the goal of creating nano-machines that can help to treat/prevent diseases that had previously been thought untreatable. |
| Life Innovation Center (Kanagawa Pref.) (Tentative Name) | Working to help promote the commercialization of research & development taking place in the fields of regenerative/cellular medicine. |
| Japan Radioisotope Association | Working to test, research, develop, and supply radioisotope products, as well as to help promote their utilization. |
| Create Medic Co., Ltd. | Research and development of medical tubule catheters with a focus on making them with silicon, which is most gentle to the human body |
| National Institute of Health Sciences | Conducting testing and research on the safety/effectiveness of pharmaceutical items and foodstuffs |
| DAIWA HOUSE INDUSTRY CO., LTD | Collaborating with the City of Kawasaki in development of the area's bustling and exchange functions, similar to those of a university campus where researchers can freely interact. |
| FUJIFILM RI Pharma Co., Ltd. | Performing research and development for diagnostic radiopharmaceuticals, such as PET agents. |
| CYBERDYNE | Performing research and development for state of the art robotic medical devices and medical welfare devices, such as its wearable Robot Suit HALⓇ, which moves in response to the wearer's intention to move. |
| PEPTIDREAM INC. | Working to discover and develop novel/original peptides based on the unique "platform system" method of research & development |
Creating a High-Level/High-Performing Cityscape Deserving to be Called the "New Face of Japan"
Considerable effort is being put into the development of the cityscape at KING SKYFRONT in order to make it a global hub worthy of representing Japan to the rest of the world.
Progress is being made on the implementation of a plan envisioning the scenery and functionality that must be introduced in order to realize our goal of becoming a world-leading center for R&D. Some examples of current aims include the laying of underground telephone/power lines, promotion of urban greenery, the introduction and utilization of hydrogen energy systems, etc.
Additionally, in order to promote free interaction among researchers in a university-like fashion, there are also plans to develop such amenities as cafes, restaurants, and lodging facilities.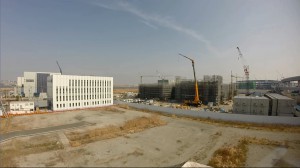 Continuing Development of KING SKYFRONT, March 2016
Creating Economic Results by Revitalizing Exchange Between People, Products, and Businesses
Development of the world's most business-friendly environment through the strengthening of cooperation between the Keihin Coastal Area—of which KING SKYFRONT is the center—and Haneda International Airport is considered one of the cornerstones of the strategy to grow Japan as a whole.
 [Inquiries] Coastal Area International Strategy Office, General Planning Bureau, Kawasaki City
E-mail: 20rinkai@city.kawasaki.jp