[Nara Prefecture] Tokinomori, a Restaurant and Shop Using Nara Ingredients
post date : 2016.02.29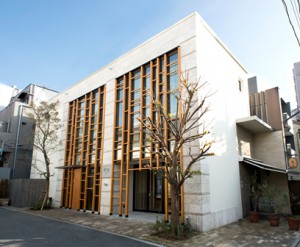 As the location of the ancient Japanese capitals of Asuka, Fujiwara-kyo, and Heijo-kyo, Nara is home to history and culture born from the treasures of Japan. In order to provide information on Nara's unique features both to the Tokyo area and to visitors from overseas, Tokinomori has been opened in Shirokanedai, Tokyo.
By encountering the attractions of Nara at Tokinomori, we hope to not only increase brand awareness of Nara Prefecture and its food products, but also to encourage as many visitors to Nara as possible.                                                                                                                                                                                            
                                                                                               Tokinomori [Overview]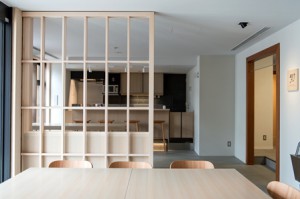 ◇Café & Shop:LIVRER

Carefully selected high-quality food and other Nara specialties line the fragrant Yoshino cypress shelves of this shop. Yoshino cypress has long been known for its beautiful color, gloss, and grain.
Visitors to the café space, enveloped in the scent of cypress, can try "Yamato-cha Tea and Houseki." 'Houseki' is an old Nara word for a light meal. You can try traditional Yamato-cha along with delicious Nara confections.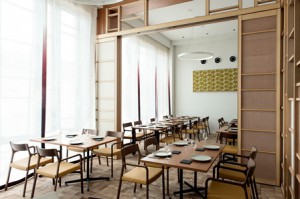 ◇Restaurant: CIEL ET SOL

Nara Prefecture, with its abundant nature, has a variety of appealing foods such as 'Yamato Mana' and 'Udakin Gobo,' traditional Yamato vegetables that still maintain their original scents and flavors. The restaurant provides dishes using these ingredients, "gifts from Heaven and Earth."
Yoshino cedar wood blocks were used for the flooring, and the furniture uses Yoshino cedar and cypress along with Yoshino handmade Japanese paper, creating a space filled with the spirit of Nara.
*For details, please see the page below (Japanese only).
http://www.tokinomori-nara.jp/
■Contact Information
Nara Prefecture, Agriculture and Forestry Department, Marketing Section
Email  marketing@office.pref.nara.lg.jp 
*Email is the only available method of contact.