【City of Sapporo】 Winter Sports City ~ 83rd All-Japan Ice Hockey Championships ~
post date : 2016.02.08
 "Winter Sports City" Sapporo, known for hosting the 1972 Winter Olympics, experiences as much as six meters of annual snowfall. In 2017 this city is set to host the Asian Winter Games, and once again become a battle stage for top level winter sports.  
Less than a year away from the Games, Sapporo held the 83rd All-Japan Ice Hockey Championships this winter.
This tournament gathered eight teams from within Japan from December 4-6, 2015 to ferociously fight for the title on two local ice rinks. One venue was Tsukisamu Gymnasium which seats 2,300 and was used for ice hockey competition in the Sapporo Olympics. The other venue, Mikaho Gymnasium, was used as the figure skating rink for the same Olympics. I went to watch the Nippon Paper Cranes play Chuo University at Mikaho Gymnasium during the tournament.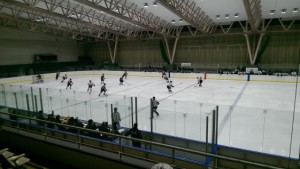 In spite of being a weekday the rink was packed with spectators, many of whom came prepared with goods to cheer their team. Watching them cheer on their favorite athletes with such enthusiasm I could tell that for many it wasn't their first hockey match, and that winter sports are well established here within the local community. Sipping at the hot chocolate I bought downstairs, I was entranced by the graceful yet power-loaded non-stop plays that had my eyes glued to the puck until the very last game second. 
In the end, the Nippon Paper Cranes won by a landslide. After the match I joined the Asian Winter Games Organizing Committee staff, who came to learn from this tournament, as they toured the press interview scene. The Games staff were told that in order to receive more press activity it is important to provide many press opportunities, including interviews like these.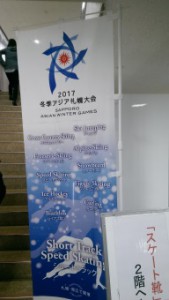 While this tournament only involved teams from within Japan, Sapporo will next be holding the Men's Ice Hockey Pre-qualification Rounds for the Pyeongchang Olympics from February 11-14, 2016. This tournament could provide useful experience for accommodating overseas athletes in advance of the 2017 Asian Winter Games.
From the fan spirit seen at Mikaho Gymnasium and the seriousness with which the Asian Winter Games Organizing Committee is making preparations, you can really feel the momentum building as we draw nearer to the hosting of the Games next year. Get ready for some winter sports action!
(Claire Froelich, Coordinator for International Relations for the City of Sapporo)
<Tsukisamu Gymnasium Homepage> http://www.shsf.jp/tsukisamu-gym/ (Japanese only)
<Mikaho Gymnasium Homepage> http://www.shsf.jp/mikaho-gym/  (Japanese only)
<2017 Sapporo Asian Winter Games Homepage> http://sapporo2017.org/en/

◆ Contact
International Relations Section, International Relations Department,
General Affairs Bureau, City of Sapporo
Kita 1-jo Nishi 2-chome, Chuo-ku, Sapporo 060-8611
TEL: 011-211-2032, FAX: 011-218-5168
E-mail:kokusai@city.sapporo.jp