Latest Efforts to Spread Natural Energy: From more technological development to local production for local consumption (November 8, 2011)
post date : 2011.11.08
【Watch Japan Now vol.11/FPCJ】
November 8, 2011
Latest Efforts to Spread Natural Energy: From more technological development to local production for local consumption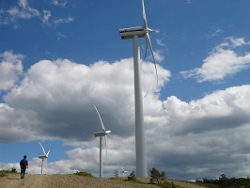 As a result of the Fukushima Daiichi Nuclear Power Plant (NPP) accident, Japan's Basic Energy Plan is being reviewed, and people are paying closer attention to natural energy than ever. The Renewables Japan Status Report 2011 (*1), however, says that in 2009 natural energy accounted only for about 3.4% of all electricity generated in Japan, a tiny 1% increase after 2000. The delay in the promotion of utilization of natural energy can be attributed to some factors: institutional and legal questions; technological restrictions; and the intrinsic operational problems of each natural energy form -- for example, wind power generation is causing complaints from residents around the windmills such as headaches due to low frequency waves and the unpleasant sound produced by them.
This time we introduce cutting-edge technology and efforts to overcome these difficulties to encourage further spread of natural energy use.
Offshore wind power generation proceeding apace: More technological development in wind power generation
"Offshore wind power generation" has been getting people's attention these days, with demonstration experiments being conducted one after the other and the construction of new power-generation facilities announced. As the words indicate, offshore wind power generation means power generation by windmills constructed on the sea far from land. The windmills used in conventional wind power generation caused low frequency waves or noise, about which people living nearby complained. Besides that, they had the problem that strong winds did not necessarily blow in areas where demand for electricity was great. Offshore wind power generation, however, has no rotating-sound problems, and it is easy to collect stronger and more stable wind than on land; much is expected.
In September this year, the government of Japan decided to construct an offshore wind power plant with a floating structure, the first of its kind in the world, on the sea off the coast of Fukushima Prefecture. An online article of the Sankei Shimbun on September 13 reported that instead of constructing the bases of the windmills directly on the seabed, the floating method would be adopted because considering the construction costs, this method, in which the floating bases of the windmills are connected to the seabed with chains, would be more cost-effective in Japan with its few shallow sloping beaches. Although one test is being carried out in Norway, Japan's floating offshore wind power generation on a commercial basis will be the first of its kind in the world. Construction will start in FY2013 and, if everything goes well, about 60-80 large windmills will float on the sea off the coast of Fukushima Prefecture, generating 300,000-400,000 kilowatt electricity, or one third of that of a nuclear power station. This project intends to generate one million kilowatt in the future.
Apart from the abovementioned project, Fukuoka City, in collaboration with Kyushu University, will start an experiment of floating wind power generation using the "wind lens" system as soon as early December. The "wind lens," a duct attached around the rotor (turbine), can gather more wind than the conventional windmill and generate electricity even in a place where the wind is not very strong. The duct creates air pressure behind the rotor and the difference in pressure then makes the wind speed 1.3-1.5 times stronger, generating three times as much power as the conventional windmill. As efficient wind power generation has become possible even in Fukuoka City with poor wind conditions, the city is planning to spread this floating offshore wind power generation as "Fukuoka-generated technology" to other places in Japan.
Advanced measures in some regions: Regional cooperation and local production of energy for local consumption
While at the national level institutional and market reforms (ex. lowering the purchase price of power generated from natural energy sources, upgrading of power grid…) are needed, some local governments and regions are trying to promote natural energy use through their own unique advanced measures.
For instance, last spring the Tokyo Metropolitan Government concluded the Six-Region Interregional Cooperation Agreement to Promote Renewable Energy with the prefectural governments of Hokkaido, Aomori, Iwate, Akita and Yamagata. By connecting the enormous demand for energy in Tokyo and the natural energy supply of the partner regions, the government seeks to reduce CO2 emission in Tokyo and stimulate the regions' economy and increase job opportunities there. By procuring power generated from natural energy sources from outside Tokyo through a unique route, the government is planning to raise the proportion of natural energy in Tokyo's total energy consumption up to 20% by 2020.
In provincial areas, we can also see some efforts to follow such already well-known advanced municipalities in natural energy use as Iida City (Nagano Prefecture), Kuzumaki Town (Iwate Prefecture) and Yusuhara Town (Kochi Prefecture). One example is Oita Prefecture. The prefecture became number one in the 2011 overall prefectural ranking for the self-sufficiency ratio of renewable energy (*2). In addition to geothermal power generation which is able to supply great amounts of energy, the prefecture plans to serve as an operating body in officially introducing small hydroelectric generation using agricultural water. Oita does this to make local production of energy for local consumption available (see Yomiuri Shimbun online article of June 26). In Iwai Island (Kaminoseki Town, Yamaguchi Prefecture), a plan is promoted to satisfy the energy demand of its 500 residents only with natural energy, in particular solar energy, without depending on nuclear energy at all. In the Study of Potential for the Introduction of Renewable Energy (FY 2010), the result of which the Ministry of Environment released in April 2011, Yamaguchi Prefecture was evaluated together with the Kyushu region as a promising area for solar power generation. 
(*1) Issued by the Institute for Sustainable Energy Policies, an independent, non-profit research organization. "Natural Energy" in the Report includes all of the heat and light from the sun, wind power, wave power, the difference between cooler deep and warmer shallow waters, geothermal and hypogeal heat coming from magma, and tidal power produced by gravity. However, hydropower generation is limited to small hydroelectric generation (a capacity of up to 10,000kW), and biomass (biofuel for electricity generation or for heat) is limited to highly efficient fuel whose heat rate is more than 60%.
(*2) Announced on October 17 by Chiba University and the Institute for Sustainable Energy Policies.
(Copyright 2011 Foreign Press Center / Japan)