Chiba Prefecture:Chiba to Host Three Sport Events in the 2020 Tokyo Olympics!
post date : 2015.07.15
Japan will host the Olympic and Paralympic Games in summer 2020.  Three of the many Olympic events—fencing, wrestling and taekwondo—will take place at the Makuhari Messe in Chiba Prefecture.
Chiba welcomes this opportunity and will work hard on setting up an environment where athletes can do their best. The prefecture hopes that the events will give local residents a chance to welcome athletes and tourists from around the world with warm hospitality, and show them what Chiba has to offer.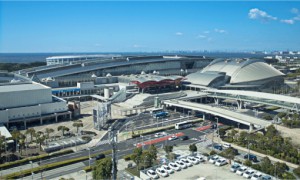 Makuhari Messe
What's more, Chiba is planning to set up training camps for foreign athletes ahead of the 2020 Olympics and Paralympics. In June 2015, the prefecture opened Chiba Sport Concierge. This consultation desk provides information about training camps, sporting events, venues, accommodation and sightseeing.  It also arranges tour guides. This service is one of the reasons why Chiba Prefecture is an ideal place for pre-Olympic training camps.
<<Advantages of Chiba>>
・ Accessibility
Chiba Prefecture is located next to Tokyo, Japan's capital and the major hosting city for the 2020 Olympic Games. It is also home to Narita International Airport, which allows visitors to get to hotels and venues easily after they get off the plane.
・Ideal Environment for Athletes
Working together with municipalities, universities and medical facilities, Chiba Prefecture will provide an ideal environment where athletes can concentrate on training.
There are also tourist facilities—including hot spring spas—near camp sites so that athletes can relax after training and experience Japanese culture.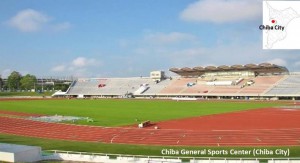 ・Variety of Food for Athletes
Chiba Prefecture is blessed with a mild climate and rich natural environment.  This makes the prefecture one of the largest agricultural and fishery producers in Japan. Fresh vegetables, seasonal fruits and seafood from Chiba can help athletes maintain a healthy diet.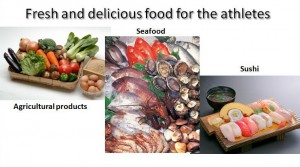 <Sightseeing Information> http://japan-chiba-guide.com/en/index.html 
<Inquiries>
Chiba Sport Concierge (Chiba International Convention Bureau) 
TEL: 043-297-2754 (Japanese/English) E-mail:2020concierge@ccb.or.jp
Chiba Prefecture Policy Planning Division  
TEL: 043-223-2428 E-mail: chibaop@mz.pref.chiba.lg.jp