[Commemorating the Opening of the Hokuriku Shinkansen] Watch Toyama Now! Regional Vitalization Starts With People!
post date : 2015.04.13
 Watch Toyama Now! Regional Vitalization Starts With People!
Toyama Prefecture is located northwest of Tokyo on Honshu, the main island of Japan, and three stations opened in the prefecture when the new Hokuriku Shinkansen line began operating this spring. With a population and area approximately 1% of Japan's total, Toyama has been referred to as "Japan in miniature." Although populations in regional cities are aging and declining faster than the national average, many companies are taking advantage of the strengths of their region to help improve their business. Looking to find a hint for the regional vitalization being promoted by the Abe administration, we visited Toyama on the brand new Shinkansen.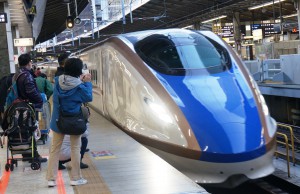 [The Hokuriku Shinkansen, linking Tokyo with Toyama and Kanazawa (Tokyo Station)]
Compared to the Hokuriku Shinkansen's terminal station in Kanazawa, Ishikawa, Toyama is not as well-known or as popular as a tourist destination. Even the locals admit it is not a glamorous prefecture. However, if you actually visit Toyama you will find an area full of nature bordered by the Japan Sea, where delicious fish can be caught, and impressive mountains, 2000 to 3000 meters tall.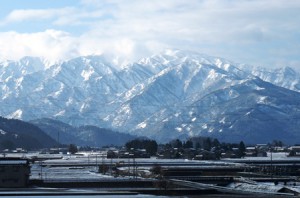 [Mount Tateyama from the train window, en route to Toyama Station]
With the Hokuriku Shinkansen now running, the Toyama-Tokyo trip has been shortened from 3 hours and 11 minutes down to 2 hours and 8 minutes. As the journey now takes around the same amount of time as Tokyo-Kyoto, day trips are now more feasible. In addition to attracting tourists from Japan and abroad, there are hopes that it will have a ripple effect and bring in companies as well. In fact, some major companies have already begun transferring their head offices to Toyama, and one estimate is that with tourism and business there will be an economic impact of approximately 8.8 billion yen annually (Development Bank of Japan). However, there are also concerns among Toyama residents that more people will just end up going to Tokyo. What the long-term effects are remains to be seen.
From the World to Toyama, and From Toyama to the World
One spot in Toyama popular with foreign tourists is Yuki-no-Otani, where it is possible to travel through a snow corridor with walls up to 20 meters high (April to June only). Mr. Katsuhito Shibuya, chief of the Toyama Prefecture Tourism and Regional Promotion Bureau, says "At the beginning of the season in particular, there are so many overseas tourists that you hardly hear any Japanese." According to Mr. Shibuya, as a result of advertising by Tateyama Kurobe Kanko (TKK), a company that operates buses and ropeways in the area, overseas tourists started increasing significantly two to three years ago. Of the 170,000 tourists that come in groups annually, approximately 70%, or 120,000, are from Taiwan (2014 result). The number of tourists from Thailand, Singapore and Malaysia is also slowly increasing, and with the opening of the Hokuriku Shinkansen, ensuring enough accommodations are available is an issue.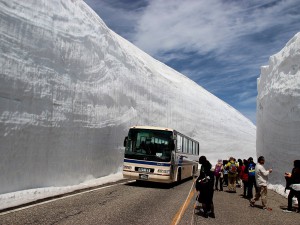 [Tateyama Kurobe Alpine Route Yuki-no-Otani]
Snow isn't all that's getting attention from overseas. Japanese craftsmanship is also alive and well in Toyama. One example is traditional metal casting techniques being used to sell products in global markets. Casting involves heating metals such as bronze or aluminum to nearly 1000°C and pouring them into molds to solidify. With a factory located in Takaoka, where a variety of manufacturers and affiliated companies are gathered, Takata Seisakusho Ltd. has a hit product: an aluminum spoon that can easily scoop hard, frozen ice cream. Its popularity exploded after collaborating with Häagen-Dazs, and the spoon also became well-known in cities such as Berlin as well. According to Managing Director Koichi Takata, there are currently 6000 people on the waiting list for this spoon, and new facilities are being planned to help deal with the shortage. Takata's company roots lie in bronze Buddhist paraphernalia, and this ice cream spoon is a fine example of innovation.
 [Left: Ice cream spoon taking advantage of the efficient heat conduction of aluminum, Center: Takata's factory, Right: Process of melting metal with high heat]. 
Mr. Takata is concerned over the drastic decrease in craftsmen with the important metalworking skills of welding and chasing, and hires people from overseas as well in order to find quality personnel. "As the total working population in Japan decreases, that means the number of quality workers is decreasing as well," says Mr. Takata. Currently, of the 34 workers at the factory (19 to 61 years old), four are from Vietnam. According to Mr. Takata, they are dexterous, focused and cooperative, and the fact that Vietnam is a Buddhist country also fits well with the company. He plans to hire two people from Indonesia in the near future.
With Toyama's history of craftsmanship, many companies there are breaking into the global market with advanced technology. Sugino Machine manufactures and sells industrial water jet cutters that spray ultrahigh-pressure water at speeds up to 1224 km/h (Mach 3), and has had its head office in Uozu since 1945. The company's technology is receiving international attention due to hopes it can be used for cutting and removing debris (i.e. melted fuel) from the Fukushima Daiichi Nuclear Power Plant. Describing the climate of Toyama, which has helped Sugino Machine grow to where it is today, President Takara Sugino says "There is plenty of water, so hydroelectricity can be used inexpensively. Earthquakes are infrequent. The people are hard-working and help each other out." He plans to stay based in Toyama, with aggressive business plans for the future aiming to increase the ratio of exports up to 50%.
[Left: Takata Seisakusho Executive Director Koichi Takata, Right: Sugino Machine President Takara Sugino]
Regional Vitalization Starts With People, Not Materials!
Mr. Takata said "When it comes to regional vitalization, the focus should be placed on people, not materials. A focus on materials goes no further, but a feeling of 'I want to buy this because of the person who made it' can lead to a stronger interest in the region." Based on this believe, Mr. Takata holds events every other month in Takaoka with several dozen participants, providing a place for interaction between local producers, and providing opportunities to tour factories or do craft workshops. Mr. Takata himself held a program to let participants experience making tin cups in his factory. Although it is not an attempt to sell products directly, he believes that these attempts to connect with people will end up increasing company sales and supporting long-term efforts to stimulate the region with craftsmanship.
Mr. Sugino also believes that a critical factor in triumphing over international competition is people. The general standards of the manufacturing industry are probably quality control, cost, and deadlines, but Sugino Machine also focuses on providing respectful service, dignified products, and honest sales. Ensuring that the philosophy of "business is people, and people deserve respect" is shared by all employees, Sugino Machines deals with customers worldwide.
Takata Seisakusho and Sugino Machine are only a couple of examples of companies throughout Japan striving to succeed, but Mr. Takata's belief that people are important, and Mr. Sugino's words, are still convincing. Even after the boom from the opening of the Hokuriku Shinkansen passes, it is people like them who will support the region.
(Copyright 2015 Foreign Press Center Japan)